Dear Parents and Guardians/A Thuismitheoirí agus a Chaomhnóirí,
International Mother Language Day
Lisa's Senior Infants class were delighted to welcome two parents into our classroom to share their language with us. Oliver's mum Eva read a lovely Slovakian story for us called 'My Bear' (Môj Medveď) and Ellen's dad Marcos taught us a really fun Portuguese song about a stinky frog called 'Sapo Cururu'. This is a really popular Brazilian Children's song & pupils loved it. We also learnt some Slovakian Portuguese words and greetings and and Maya and Cinnamon taught us some Finnish greetings too! (Pictures below).
On Tuesday we celebrated Mother Languages Day. Rosie taught us about her Maori heritage and some words in Maori.  Odharna created a poster with how to say hello in 10 languages. We also listened to a wonderful podcast called Mother Tongues about the Irish language. Maeve
'Balla na dTeangacha' we put together for International Mother Language Day, Oisín's 3rd Class
And More!
Thank you to Aga Seliga for coming into 4th class during well-being week to give a life coaching class.  The children really enjoyed learning about their 'circle of life' and setting goals with their partners. Naomi
A very productive week in Dees class. We did a litter pick up around the school and have mastered the Walls of Limerick dance in time for Seachtain na Gaeilge, Dee
ALC Green had great fun making pancakes. Kathy
Daniel's Junior Infants had a lovely time exploring clay during Art this week.
Restorative Practice
We are continuing our restorative practice journey in school. Restorative Practice (RP) is a values-based philosophy; it aims to consciously build relationships, respond to harm / conflict in a way that honours relationships, and CONNECT us to our best selves and to one another (Stowe 2017).  Please check out our webpage here for more information.  Lisa
GET Together Newsletter
Hello, it's Eliza again, your Get Together newspaper editor. If you want to help with the newspaper please start writing your articles now! We would be happy if you could write something for our music column or pet corner but anything will do. Please email word documents to [email protected] The sooner we get your articles in the sooner we'll get the next edition out!
On behalf of the Get Together editorial team,
Thanks for supporting our student paper.
Eliza, 6th class
Request
If you have a bike that would suit a 7-8yr old child that you no longer need and would like to donate to the school please contact Nicky in the office at 018572086 or email [email protected]
Upcoming
World Book Day 2nd March 2023
Seachtain na Gaeilge
School Photographs will be taken on 14th March 2023
Reminder:
Please arrive to school on time as many classes are doing circle time and other learning activities at 8:40am, coming in later than this disrupts the whole class learning and means your child is missing out.
Please use Park 'n Stride on Griffith Avenue passed Ballygal Road junction.
For Primary Language Curriculum Training school closes at:

12pm on Thursday 16th March 2023
Frása na Seachtaine:
"Rinneamar ceiliúradh ar Lá Idirnáisiúnta na Máthairtheangacha."
"We celebrated International Mother Language Day."
Le meas
Róisín Conlon
Príomhoide
Mother Language Day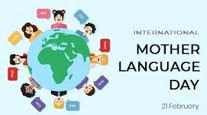 Oisín's 3rd Class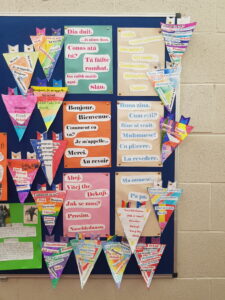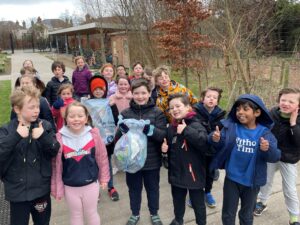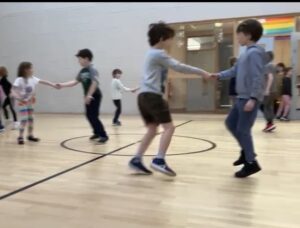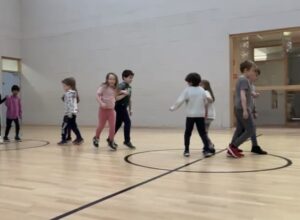 Making Pancakes in ALC Green