Dear Parents and Guardians/A Thuismitheoirí agus a Chaomhnóirí,
Wellbeing Week
We are all really enjoying Wellbeing Week so far!
On Thoughtful Tuesday we focused on how we can be kind to ourselves and others. Classes discussed how we can help others and think about other people's feelings and we shared acts of kindness. We also focused on being kind to yourself through a loving-kindness meditation, the practice of sending well wishes towards yourself and other people.
Wellness Wednesday's focus was Rainbow Moments, thinking about all of the little moments during the day when good things happen and focusing on them.
Today, for Thankful Thursday we spent time thinking about all of the many things and people we are grateful for. Pupils also wrote poems and made thank you cards.
Tomorrow is Friendship Friday. We will be exploring what makes a good friend and how we can show friendship to others and develop the friendships we have. We will be encouraging pupils to tell their friends what they appreciate about them.
Pupils all really enjoyed our PJ Day & we all came together for a whole school photo in the yard too! We were very thankful for all of the very generous donations.
Pease see lots of photos below.
Student Council
Today's student council meeting discussed feedback from classes about encouraging more green travel, and a more sustainable use of the bins to reduce waste. We also hope to engage pupils in a litter pick up around the school as some litter has blown in from the surrounding area and is unsightly. We plan to discuss gender identity and expression at our next meeting and how to be more inclusive in our language and signage around the school. Thanks to Robert, who chaired today's meeting.
Le meas,
Sorcha
Fundraiser for ET One Day Together and Pieta House
It was lovely to see everyone in the cosy jammies today and a fantastic achievement was made, raising €730 which will be split evenly between the two worthy causes.  Maith sibh!
A big thanks to Lisa and the Wellbeing Team for organising many enjoyable activities for Wellbeing Week, including PJ Day.
Guidance for Motorists and Pedestrians
ET Ethical Matters Spring Newsletter
Lost Property on display outside the school today, Thursday and Friday!
Reminder:
Please arrive to school on time as many classes are doing circle time and other learning activities at 8:40am, coming in later than this disrupts the whole class learning and means your child is missing out.
Please use Park 'n Stride on Griffith Avenue passed Ballygal Road junction.
For Primary Language Curriculum Training school closes at:

12pm on Thursday 16th March 2023

School Photographs will be taken on 14th March 2023
Frása na Seachtaine:
Cén caitheamh aimsire atá agat?" – "What is your pastime?"
Leath téarma maith agaibh!
Le meas
Róisín Conlon
Príomhoide
Wellbeing Week / International Mother Language Day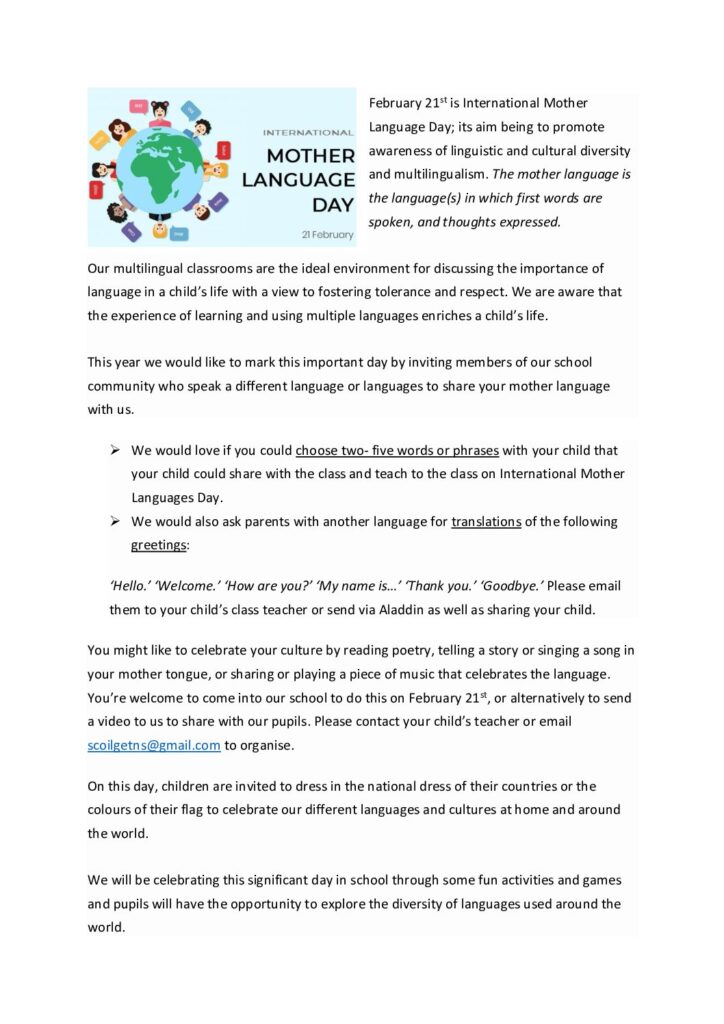 Pyjama Day – Fundraiser
Some of the fantastic posters the children made to display their favourite inspirational quotes. Oisín's 3rd Class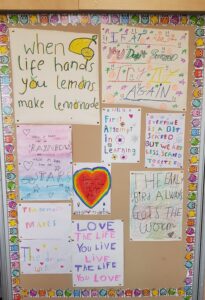 Motte and Bailey by 4th Class
Lost Property