PE in our School
PE (Physical Education) is an important part of our school curriculum. The curriculum contributes to children's overall development by helping them to lead full, active and healthy lives.
The PE curriculum provides a balanced range of activities for children through the six strands:
Athletics
Dance
Gymnastics
Games
Outdoor and adventure activities
Aquatics.
All pupils in our school are provided with 60 minutes timetabled PE per week
Every child's progress is discussed with parents at Parent-Teacher meetings and feedback is included in the annual school report.
Our school PE programme allocates a balanced amount of teaching time to each of the different PE strands.
We ensure that PE activities are planned so that they are accessible by all pupils. Classes are taught the Land PAWS Water Safety Programme each year.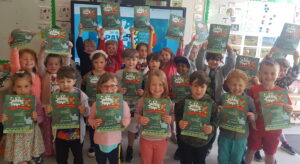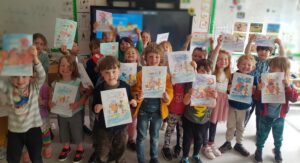 Children are proud of their water safety pictures and certificates!
Teachers use PSSI lesson plans and the 'Move Well, Move Often' resources to guide their delivery of the PE Curriculum.
Our PE store room has been revamped this year; we added additional shelving and hooks on the walls and we know have a room full of labelled equipment, where every item has a designated space! We did an inventory of resources at the beginning of the year and we purchased new equipment & resources accordingly.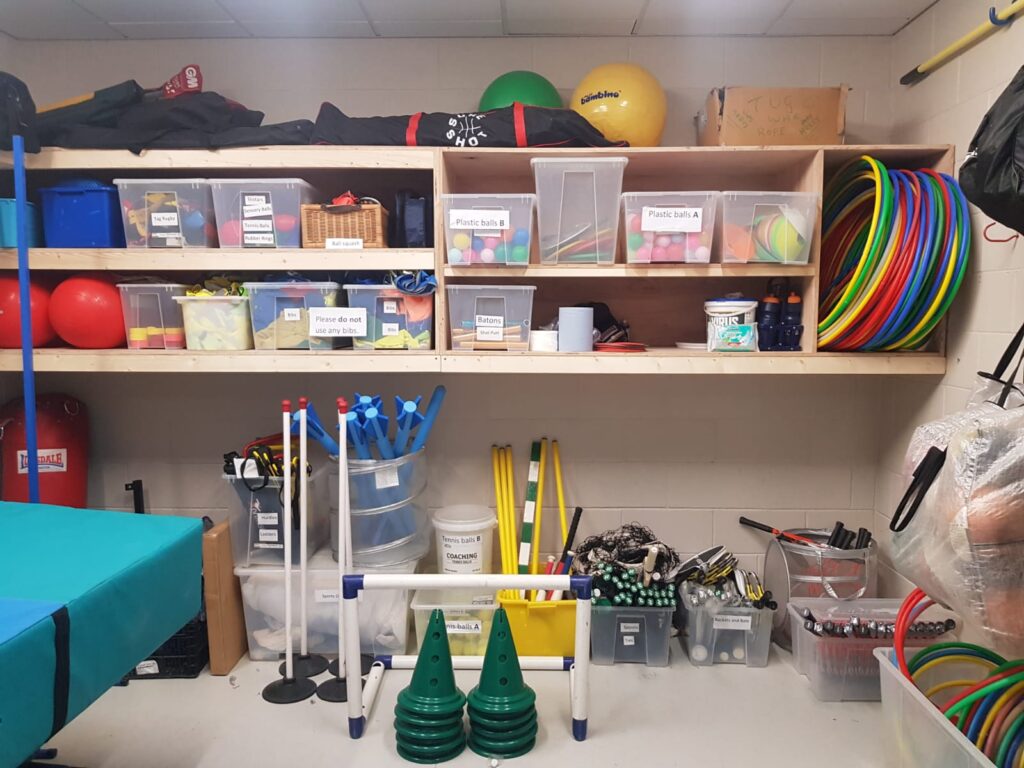 We have devised a simple plan to ensure each class is taught the six strands of the curriculum. We make every effort to ensure that classes are simultaneously working on the same strand. We have found this practice invaluable in that resources & ideas can be shared freely and the necessary equipment is made easily accessible for the each class to use.
Whole School Plan 2019-2020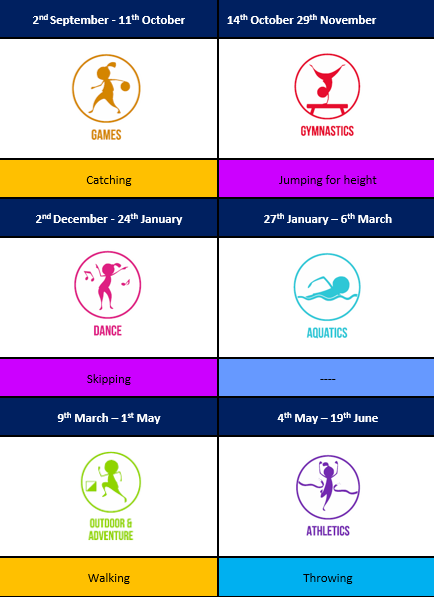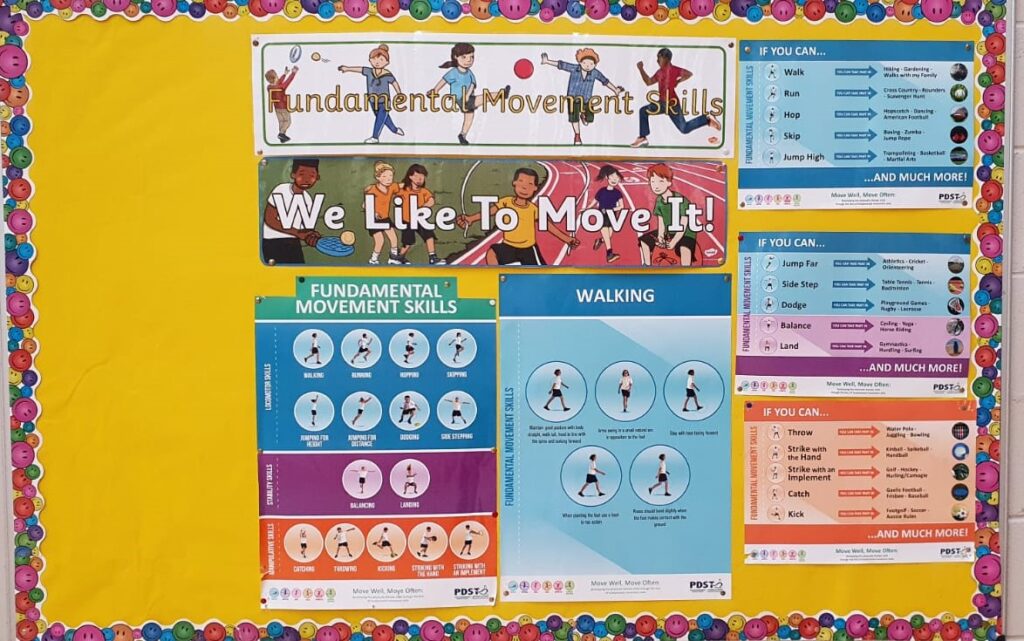 Each class level works on the same fundamental movement skill & teachers use the FMS notice board in the hall as a teaching aid.   Classes focus on one/two teaching points from the current FMS each week.                                             
Our Priority Stand for the Year 2019-2020
Teachers agreed to prioritise one PE strand for further development each year. After collaborating with everyone at a staff meeting, this year we choose to focus on Dance.  We had several meetings to discuss how we could enhance the dance strand for all classes. The Teachers leading the Active School Initiative photocopied and collated & hard copies of the PSSI lesson plans for Folk Dance & Creative Dance to assist teachers with their planning for dance. Each teacher spent time teaching their students creative dance & folk dance, working primarily from the PSSI lesson plans but also using suggestions from the PDST websites as well as lesson plans from the Move Well Move Often workshops. Each class particularly enjoyed learning the 'Compass Dance'. Teachers shared resources, music and lesson plans during the six week period in which each class worked on the dance strand. This worked out really well & teachers are now confident in the teaching of this strand. Each class also learnt a Ceili Irish Dance as part of our celebration of Seachtain na Gaeilge.
Priority Strand 2020-2021

This year's priority strand is Outdoor and Adventure. Teachers worked together to see how we could strengthen the teaching of this strand in PE.
We made a folder of resources to support the teaching of this strand, including PSSI plan, scavenger hunts, adventure trails, cooperative games & activities, orienteering ideas & a range of other outdoor & adventure activities. We set up our Active Walkway at the beginning of this school year and created our Active Walkway Map for the school grounds.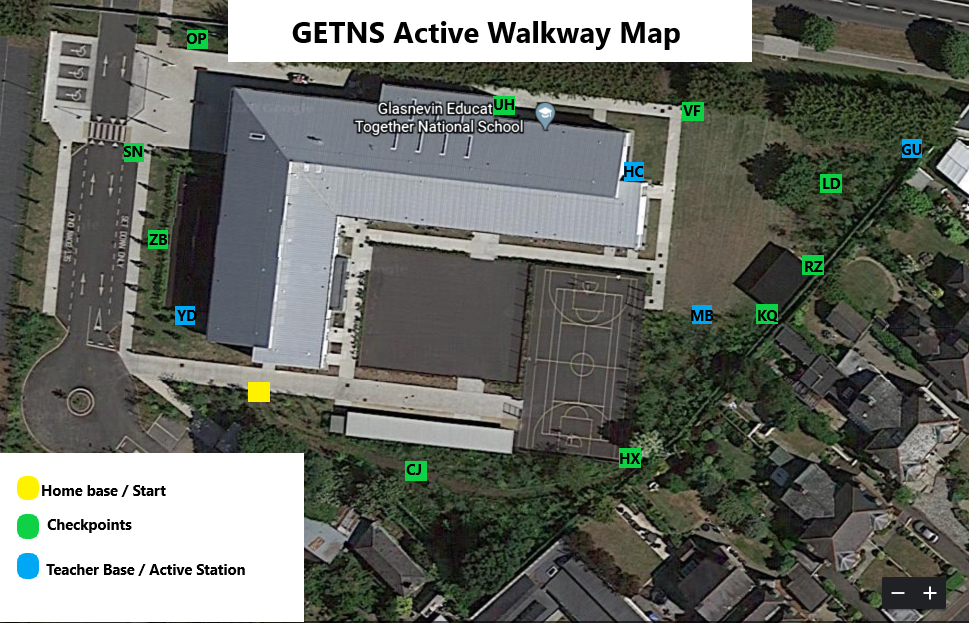 The ASF coordinators led the teachers around the walkway after it was set up so everyone would feel confident taking their class on the route for different activities & challenges.  All classes have engaged in additional Outdoor and Adventure Activities this school year, using the Active Walkway and children are enjoying all the outdoor fun!
PE in Our School
Each class has one hourly session of PE each week and we use lots of different resources and equipment to help deliver exciting and engaging lessons. These cover all six strands. We also have a range of online resources, including the PSSI lessons, that teachers can access for support. We set up an ASF/PE library with resources and plans to support the teaching of each strand being taught.
This year, with the help of the Active School Committee, we did an inventory of the equipment we had & based on this, we made a comprehensive list of what we needed to order.  We also ordered some new playground activity equipment to ensure yard games & activities remain fun & engaging for all students.
We talk about children's progress in PE in each child's end of year report and going forward we will also be ensuring that all parents are given an update on their child's progress at parent teacher meetings too.
Our teachers have undertaken training in a variety of areas, including the new 'Move Well, Move Often' Fundamental Movement Skills and physical literacy workshops, the 'Getting Active in Physical Education' CPD course and most recently a course with Badminton Ireland to help us teach badminton effectively in our school.
Physical Activity at Home
We use the Super Troopers Programme to give children opportunities to do physical activity as part of their homework. Each student has a Super Trooper journal and each class are assigned homework activities from the journals each week.
Please click on the image to find out more about the Super Trooper Programme, including lots of information on physical activity, nutrition and well-being and additional activities for kids of all ages.
Parents can read more about how to encourage their children to be active at home here: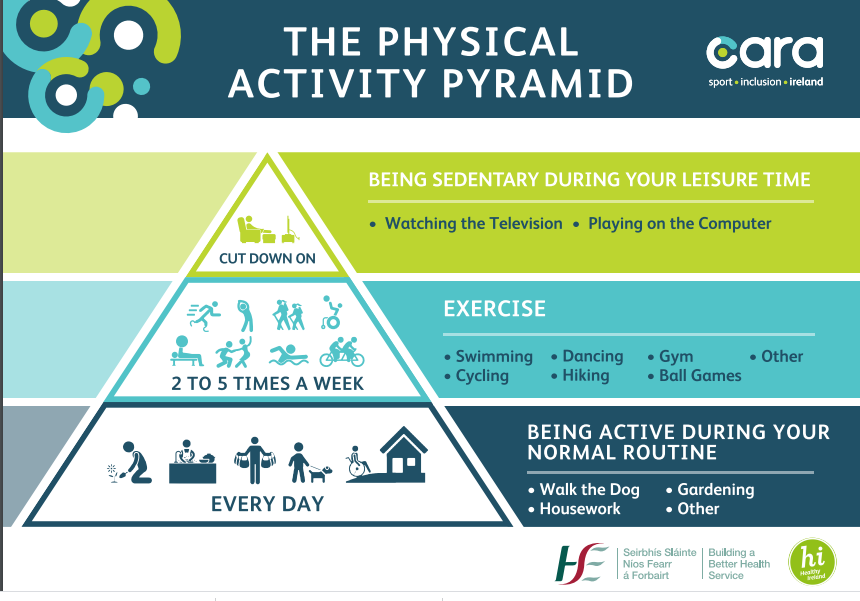 Fundamental Movement Skills (FMS)
Fundamental Movement Skills are the building blocks for movement. They are the skills which children need to participate successfully in all types of games, physical activities and sports.  Our aim is to support the development of the physically literate child through the lens of fundamental movement skills. More information can be found in the document below.
November 2022
Active School Flag Update This month's Active School Flag challenge [...]
June 2021