Dear Parents and Guardians/A Thuismitheoirí agus a Chaomhnóirí,
School Closes at 12pm tomorrow, Friday.
Student Council Update 2nd February 2023 
The focus of our meeting was sustainability. Cara (6th class) chaired the meeting. We discussed what our first focus for developing sustainable practices would be and decided to focus on:
Bins 
Recycling bin for clean and dry paper and plastic
General rubbish bin should be used for anything else except food!
Everyone needs to bring their food waste home in their lunch box.
If the bins are always getting mixed up it would be a good idea to have a bin monitor who reminds children before each lunch break.
Green travel 
Encouraging everyone who can to walk/scoot/cycle or get the bus to school.
If you can't do that because you come too far, or your parent/guardian needs the car then you could try to park and stride (park at the Finglas end of Griffith Ave and walk down) or car pool – where you bring a neighbour in your car or go in their car.
We would like ideas about how to make everyone aware of green travel and to encourage it at school.
Water Bottles 
Encouraging everyone to try to use a reusable water bottle as it is better for the environment.
The student council then visited all the classes and passed on these messages.  
Our next meeting is planned for next week.  Sorcha
And also, this Week
Fred raised money for Active School by hosting a Cake Sale outside his house.
Dees first class worked on the value of the month, Friendship, for the junior assembly.  We also worked in class using our friendship tree. Dee
The 5th classes shared their PE lesson today and taught each other some dances they have been learning over the last few lessons. Niamh's class demonstrated the Walls of Limerick and Colm's class demonstrated the Compass dance. They had great fun together. Niamh & Colm
Reminder:
For Primary Language Curriculum Training school closes at:

12pm on Friday 3rd February 2023
12pm on Thursday 16th March 2023
Please arrive to school on time as many classes are doing circle time and other learning activities at 8:40am, coming in later than this disrupts the whole class learning and means your child is missing out.
Please use Park 'n Stride on Griffith Avenue passed Ballygal Road junction.
Bank Holiday: Monday 6th February 2023 – School closed
Mid-Term Break: Monday 13th – Friday 17th February 2023
School Photographs will be taken on 14th March 2023
Frása na Seachtaine:
"Ná bí buartha faoi". – "Don't be worrying about it".
Le meas
Róisín Conlon
Príomhoide
Dee's 1st Class in Assembly on Tuesday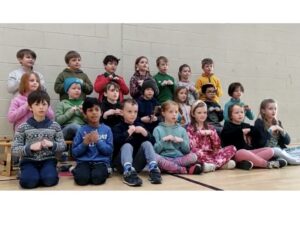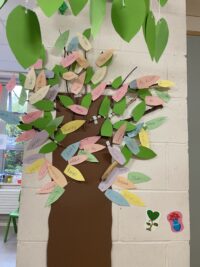 5th classes shared their PE lesson
Beautiful artwork by Niamh's 5th class