Dear Parents and Guardians/A Thuismitheoirí agus a Chaomhnóirí,
Seachtaine na Gaeilge
Sean Nos Dancing with Turu
Dia daoibh,  Bhí tús iontach againn le Seachtain ne Gaeilge. We had a wonderful start to Seachtain na Gaeilge.  On Wednesday, each class had a dance workshop with Tura Arutura.  Tura spoke a mixture of Gaeilge and Béarla during the lessons. He taught the children some sean nós dancing as well as modern dance. Tura's enthusiasm for Irish culture and the Irish language is infectious and was thoroughly enjoyed by all.
Our Ceannairí Gaeilge have been leading our 'frása an lae' each morning over the intercom, as well as greeting classes after sos each day. Maith sibh! It is great to see the huge effort being made by all the children to bí ag labhairt Gaeilge.
Today we had buddy classes 'ag léamh le chéile' for World Book day.  Ar adhaidh linn.  Tús maith, leath na hoibre. Aoife C
Lisa's Senior Infants and Colm's Fifth Class enjoyed a story as Gaeilge today at paired reading.
Léitheoireacht beirte as Gaeilge – Rang a hAon Grace agus Rang a Ceathair Maeve.
World Book Day
Junior Infants Blue loved sharing their favourite books. Here are a few reasons why they like them:
It's funny and I like the other stories in it, and it's a Christmas book – Sadie (The Fake Santa)
I like the dress in the story – Juno (Cinderella)
It's so funny. I saw the film too. – Grace (The Cat in the Hat)
I brought this book because I wanted to dress as a doggy too, and they swap their bottoms! It's very funny – Julie (The Great Dog Bottom Swap)
A crayon got lost in the couch and someone sat on him! He said "nooooo" it was so funny – Conor (The Day the Crayons Came Home)
It's really funny when the giant turnip falls on top of them – Margot (The Enormous Turnip)
Colm ag léamh as Gaeilge sa leabharlann & World Book Day ln Lisa's Senior Infants (see pictures below).
Niamh's Senior Infants doing paired reading and reading with 6th Class.
Jill's 2nd Class designed alternative book covers of their favourite books and presented them to their classmates.
And More!
ALC Blue trip to the Project Theatre on Friday
ALC Blue went to see a show called 'Plock' at the Project theatre. The show was about painting and designing something new. The stage was covered in a huge canvas. The artist had an accident with his paint, but he used the happy accident to make a beautiful piece of Art. The artist used his body to paint. He did some amazing acrobatics! He got his inspiration from Jackson Pollack and that's why the show is called Plock "because Plock is a word from Pollack" (Evangeline). We made our own Jackson Pollack mural in class. The floor and walls and everything including Sylvia were covered in paint. The floor was a piece of art too just like in Jackson Pollack's barn. We listened to jazz music while we splattered, just like Jackson Pollack! Sylvia
Evangeline said "Jacobs painting was like Jack Yeats's painting in the National Gallery".
Ethan K said "the show was weird, the man spread the paint everywhere."
Ethan G said  "the show was really awesome because the man took off his shirt and then he painted everywhere!"
Davin said "that show was really cool".
Aaron said 'I loved the show and I thought it was funny'.
Ksawery said "I was laughing and I loved the show".
Caimin said 'I liked the show'.
Sasha in 4th class has been teaching her class about her new hobby. She has taken up fencing! She even took part in a fencing competition last week. Keep it up Sasha! Maeve
Junior Infants have been working hard at their writing stations learning how to do curly caterpillar letters! Here they are having fun and writing the letter C. Daniel.
Busy week in Dee's class, from competitive PE Games that tested our speed, to maths stations, and SnaG  Sean Nos dancer Tura, to our very own Caroline who kindly came to read us a beautiful story as Gaeilge on World Book Day. Dee
The boys' soccer team played St. Paul's N.S in the first cup game of the season in Albert College Park on Monday. It was a really competitive game. Eoin from 6th class scored a brilliant winning goal in the 2nd half securing a 1-0 win. A big well done to the whole team.
Zoom Workshop in 3rd class – writers workshop with directed drawing.
Volunteers needed to help with final clearing of the Outdoor Classroom area any day next week from 1:20pm.  Please contact Nicky in the office if you can help.
Upcoming:
School Photographs will be taken on 14th March 2023
Internet Safety Talk on the evening of 15th March 2023 via Zoom for all Parents in the school.
Reminder:
Please arrive to school on time as many classes are doing circle time and other learning activities at 8:40am, coming in later than this disrupts the whole class learning and means your child is missing out.
Please use Park 'n Stride on Griffith Avenue passed Ballygal Road junction.
For Primary Language Curriculum Training school closes at:

12pm on Thursday 16th March 2023
Frása na Seachtaine:
Le meas
Róisín Conlon
Príomhoide
Seachtain na Gaeilge – Sean Nos Dancing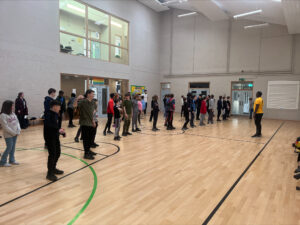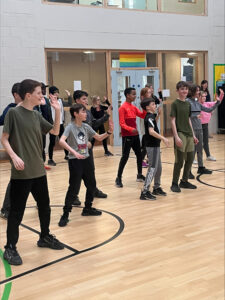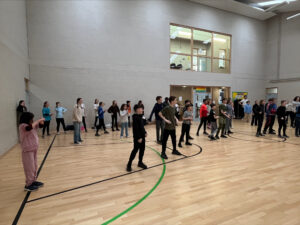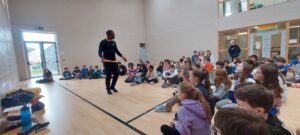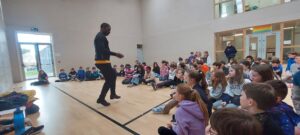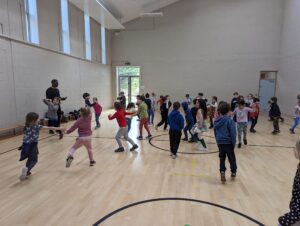 Lisa and Niamh's Senior Infants classes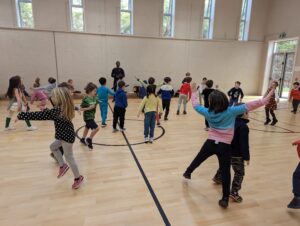 Lisa and Niamh's Senior Infants classes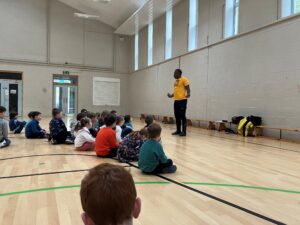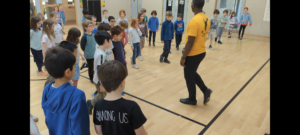 Grace and Dee's 1st Class Sean Nos Dancing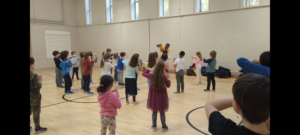 Grace and Dee's 1st Class Sean Nos Dancing
Léitheoireacht beirte as Gaeilge – Rang a hAon Grace agus Rang a Ceathair Maeve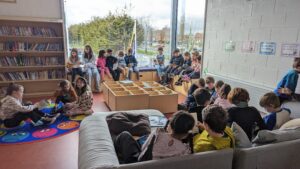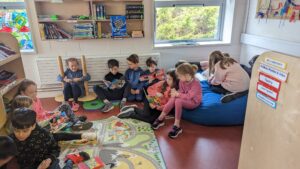 Ceannairí na Gaeilge ag caint le na páistí.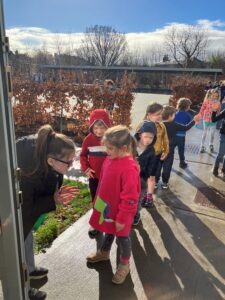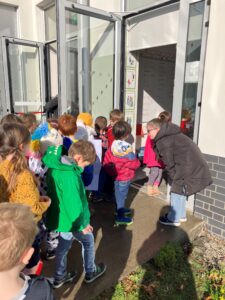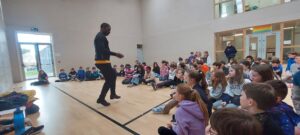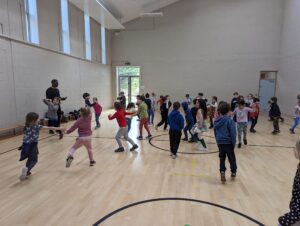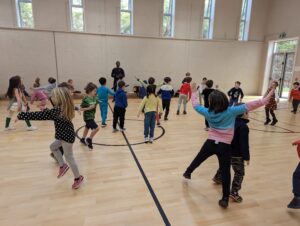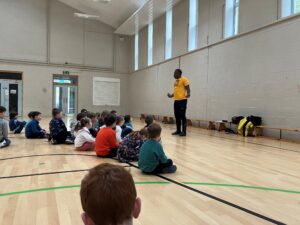 Jill's 2nd class designed alternative book covers of their favourite books and presented them to their classmates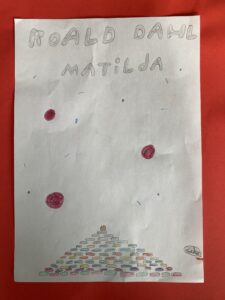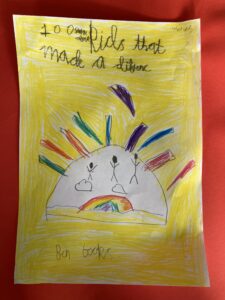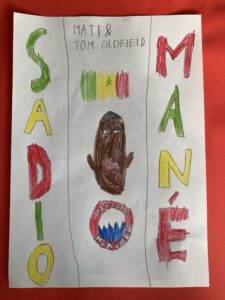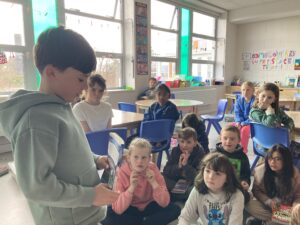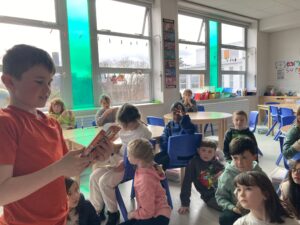 Paired reading in Niamh's Senior Infants
Niamh's Senior Infants reading with 6th Class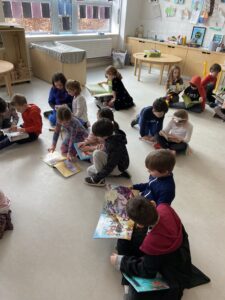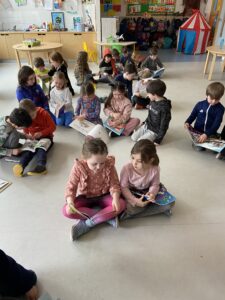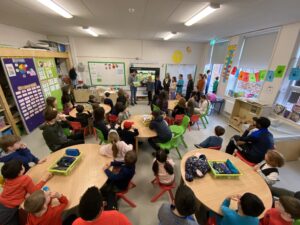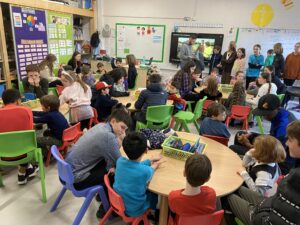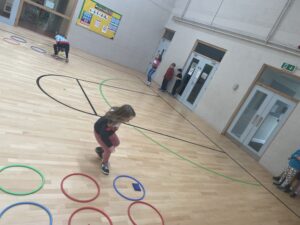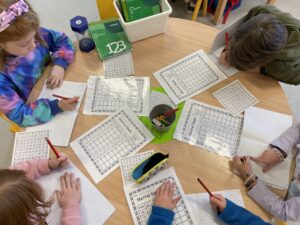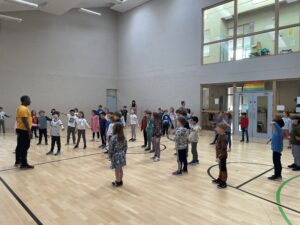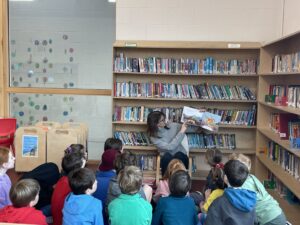 Zoom Workshop in 3rd class – writers workshop with directed drawing