Dear Parents and Guardians/A Thuismitheoirí agus a Chaomhnóirí,
Following consultation with pupils, staff and parents please see changes to this important policy.  The aim is to reflect our evolving practice.  On reflection of discussions and feedback the key message is that we maintain consistent high expectations for behaviour and endeavour to provide clear boundaries.   Our response where expected behaviour is not upheld is somewhat changed and streamlined within the document with the introduction of a framework for our compassionate, empathetic approach through the use of Restorative Practice.  A small group of parents have already reviewed the policy and provided some very valid and helpful feedback, thank you to those involved in this.  We warmly welcome any further feedback from all parents between now and next Tuesday via the school email.  Key changes are in italics, see notes in red text.
Department of Education – Review of the Education for Persons with Special Educational Needs Act 2004: Survey (see further information below).
Please take a few minutes to complete the survey below.  There may be different views on full inclusion model versus having different school options for different children (mainstream, special class, special school) regardless of views on this, many of you share our frustrations with the lack of adequate support and services available to families and schools in upholding the aspirations of the EPSOM Act i.e. a fair and equal chance for all children.
Survey for parents and members of the public.
Survey for students and young persons who have left the education.
Seachtaine na Gaeilge
Dia dhaoibh, Tá imeachtaí Seachtain na Gaeilge ag dul ar adhaidh go dtí Lá Le Pádraig. Tá sár-iarracht déanta ag na páistí go léir Gaeilge a labhairt I ngach rang.
Seo iad na Gaeilgeoirí na Seachtaine ó an Aoine seo caite;
Rían ó rang Daniel,
Éire ó rang Sorcha,
Ellen ó rang Lisa,
Nicholas ó rang Niamh,
Toby ó rang Dee,
Leo ó rang Grace,
Saoirse ó rang David,
Marley ó rang Jill,
Ruben ó rang Oisín
Clodagh ó rang Emma
Isabel ó rang Naomi/Aisling,
James ó rang Maeve,
Cillian ó rang Colm,
Tiana ó rang Niamh,
Marcus ó rang Pádraig.
Maith sibh go léir!
Bhí ceolchoirm bheag again ar an Máirt. Bhí Colm ag seinm an giotar, bhí Niamh B ar an mbosca ceoil agus bhí Aoife C ag seinm an chláirseach.  Rinne Ellen ó rang Maeve damhsa agus rinne Clemence ó rang Pádraig damhsa freisin. Bhain gach duine taithneamh as go léir.
Sheinn Ailbhe ó rang a trí píosa ceol aláinn thar an idirchum i gcoir amhrán an lae inné.  Sheinn sí an amhrán "Inisheer" ar an fidil- bhí sí tharr barr!  Maith an cailín Ailbhe!
Bhí céilí mór ag rang a cúig, rang a haon agus naíonáin shinsearcha inniu i gcoir seachtain na gaeilge. Rinne siad Ballaí Luimnigh agus Shoo the Donkey agus bhí an-craic ag gach éinne!  Aoife C & Aoife G
Engineering Week
Draw bots: 6th class pupils came to help make draw bots in Junior infants for Engineers week.
4th class had lots of fun creating Scribble Bots as part of Engineers' Week!
It was great to have 3rd helping us with engineering week activities. Dee's 1st Class
And More!
Junior Infants observed the narcissus in the school grounds and some daffodils and painted beautiful pictures this week.
We LOVE books in ALC Green. We had a great time reading our favourite books on World Book Day
School Calendar for Academic Year 2023/2024
Upcoming:
Good news, as mentioned before Educate Together have published a book called "A Snapshot in Time", showcasing snippets of great work going on in Educate Together schools which we feature in. Watch this space next week!
School Photographs will be taken on Tuesday, 14th March 2023
Internet Safety Talk Parent Information Evening Wednesday 15th March 2023 at 7pm (Meeting link details will be emailed to you prior to the meeting on Wednesday 15th March 2023)
Agenda
The talk, incorporates video, guidelines, practical demonstrations and discussion, providing parents with practical non-technical information and guidance for keeping their children and families safe online. The agenda for the evening is as follows:
Cyberbullying Presentation Themes Internet Safety Presentation Themes
Cyberbullying Definition & Facts Messages & behaviours to instil in your children.
What to teach your children – Key Messages What your children learned in class today
What your children are saying … Safety Tips & amp; Personal Information
Children's Behaviours Online Get Smart or Be Outsmarted (by your kids)
Consequences & the Law Let's Talk App's
Recognising signs of Cyberbullying How you effectively monitor your kids online.
How to Address a Cyberbullying situation Parental Control Demonstration
Online Safety Guidelines plus video Game Consoles. Phones, Tablets
Many parents who have attended presentations on these topics in the past may not feel the need to attend. Ger Brick facilitates an information evening that will be different to presentations you may have attended in the past. We really encourage at least one parent from each family to attend.
Reminder:
Please arrive to school on time as many classes are doing circle time and other learning activities at 8:40am, coming in later than this disrupts the whole class learning and means your child is missing out.
Please use Park 'n Stride on Griffith Avenue passed Ballygal Road junction.
For Primary Language Curriculum Training school closes at:

12pm on Thursday 16th March 2023
Frása na Seachtaine:
Cén rang ina bhfuil tú? Táim i rang a …
What class are you in? I'm in…
Le meas
Róisín Conlon
Príomhoide
Seachtain na Gaeilge
Engineer's Week
Junior Infants make Draw Bots with the help of 6th Class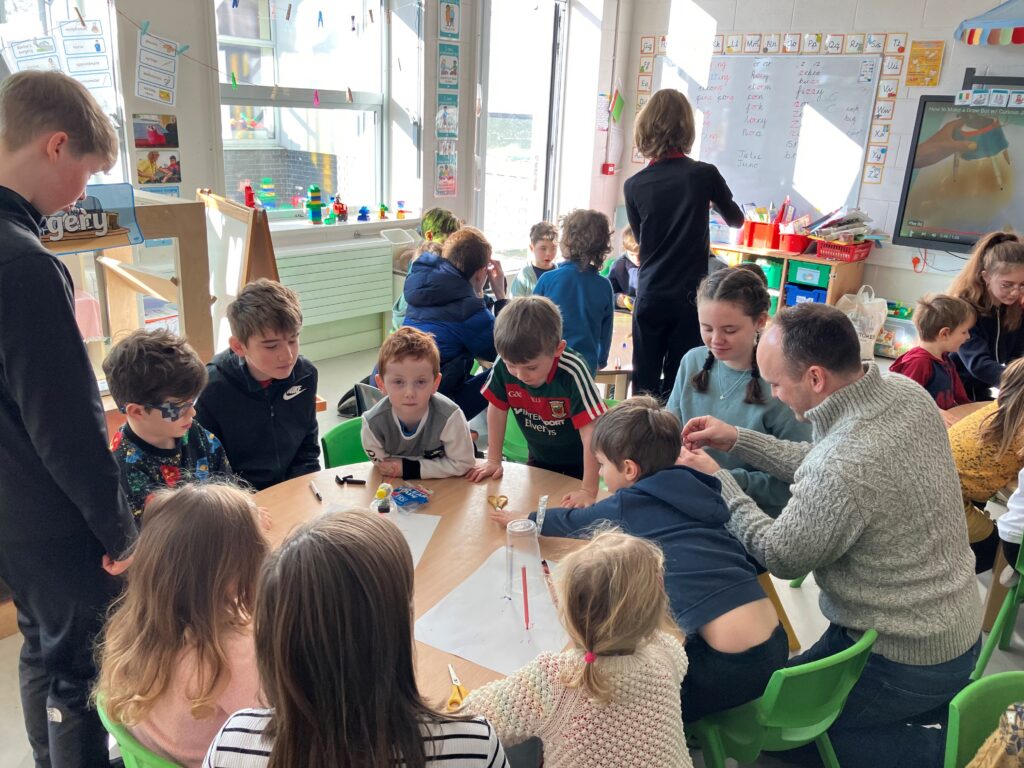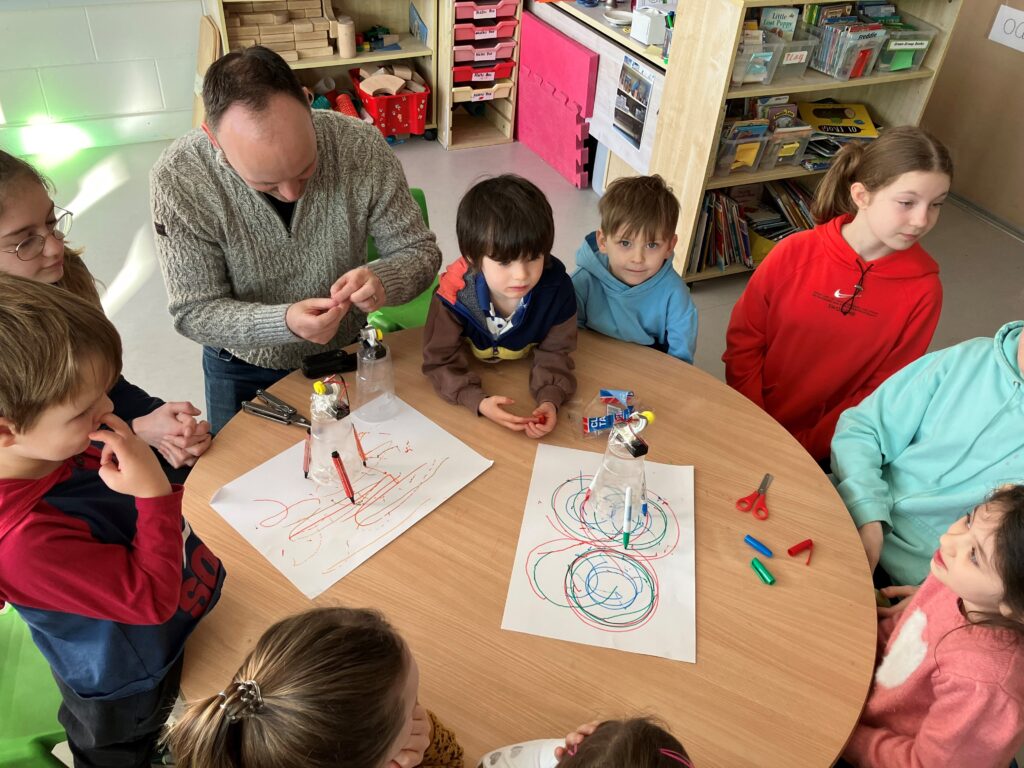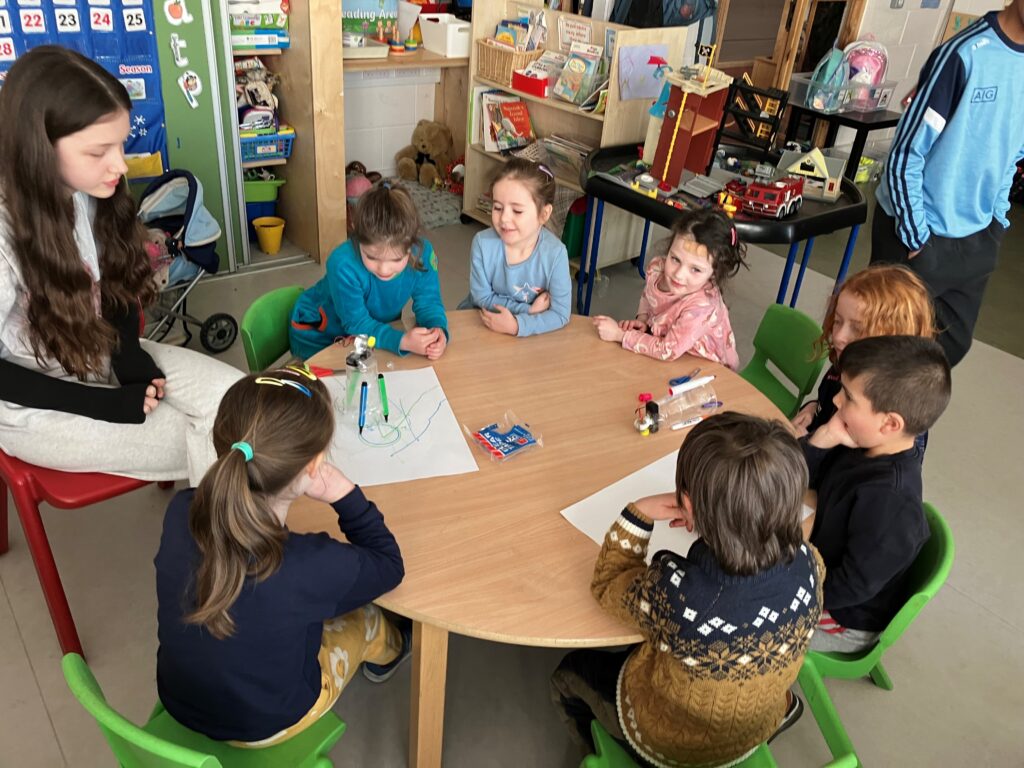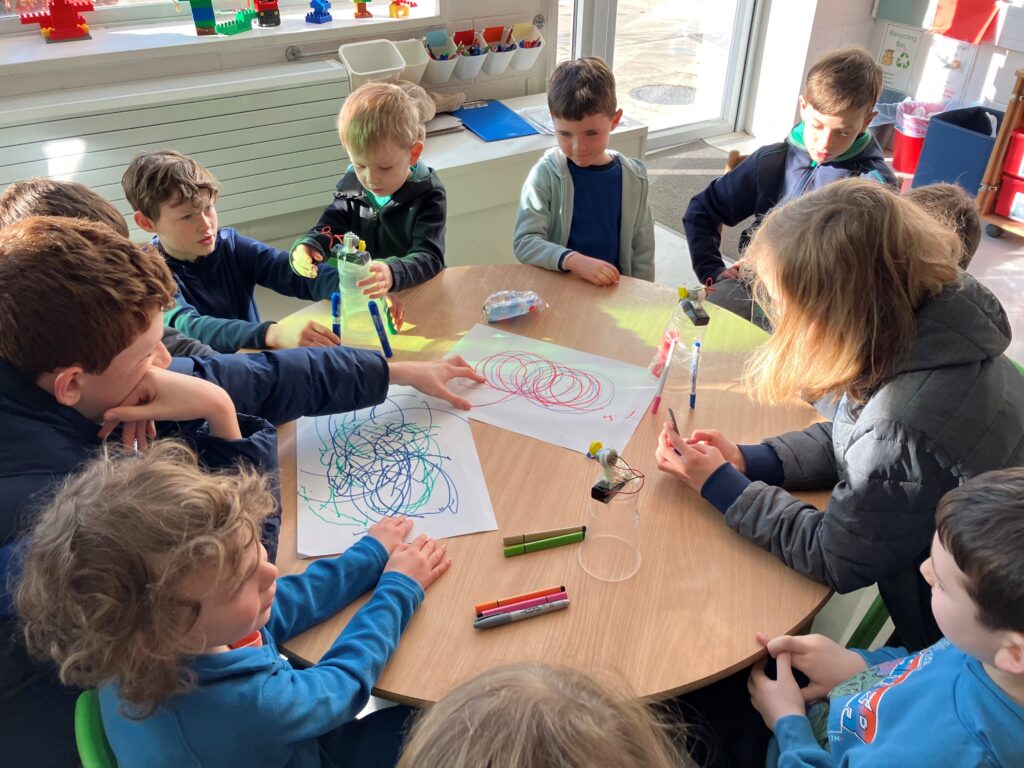 4th Class creating Scribble Bots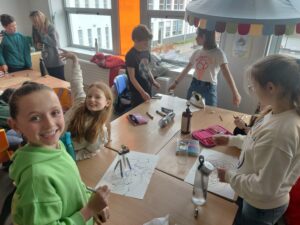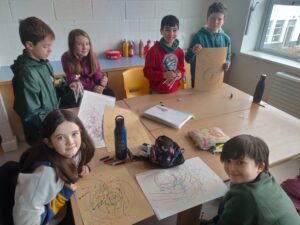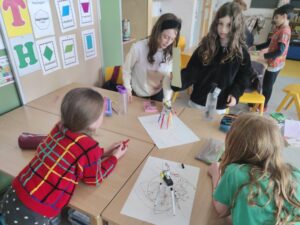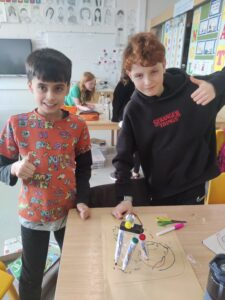 5th Class help 1st Class during Engineering Week