Dear Parents and Guardians/A Thuismitheoirí agus a Chaomhnóirí,
Autumn Fair '22
Get your gladrags on and come on Sunday 11-2 to support our phenomenal community event of the year. See below special for details from our incredible parents who have worked tirelessly on this for months!! Thank you so much to Marena, Valerie and Maria for your hours and hours of time put into planning and coordinating. Thank you to all our Second-Class parents for your huge contribution, and to all for your generous donations.
Child Protection Review: seeking feedback from all parents
As part of our annual review of our compliance with the Child Protection Procedures for Primary Schools:
The PTA has been provided with the School's Child Safeguarding Statement.
The Child Safeguarding Statement is available to all parents, on request, through the school office (email or printed copy); is displayed in the main foyer; and is on the school website.
Please read the attached full document, which includes: the Child Safeguarding Statement, Risk Assessment and Checklist for the Board of Management. If you have any feedback in relation to the school's child safeguarding requirements, please email them to

[email protected]

by 3 p.m. Monday 24th
Down Syndrome Awareness Month
As part of Down Syndrome Awareness month, we're learning two Lámh signs a week. Pupils from 6th class visit each classroom each week to model the signs for children. Children are encouraged to use them throughout the day to enhance of our inclusive school environment. Here are some of the signs we have learnt so far (click on the word to open the sign): happy, yes, goodbye
Try to use them at home with your family at home. 🙂
Maths Week 17-21st Oct
During Maths Week, we have been:
Learning new games, including Snakes & ladders/ Ludo in Infant and First Classes; and a brand-new game (to most) called Mancala in Second-Sixth Classes. The children loved it!
Lego building across all the classes. Also, much fun had!!
Huge thanks to Sylvia and Oisín for organising Maths Week activities, and all so very meticulously. Thank you to all the parents who volunteered to teach the classes, and a special shout out to Steve Barnes. Finally, well done to Sylvia's class and Padráig's Sixth Class children who did a great job at greeting parents and escorting them to the relevant classroom. Maith Sibh😊
Creative Schools Arts Council Award update
Following the work over the last two school years, swift boxes are now installed at the external wall adjacent to the 'field'. A sound will be generated to entice them in there when on the lookout for a home (later in the year on their return from Africa); we will keep you posted as to when to keep your eyes peeled for some new inhabitants. Here's hoping it works!!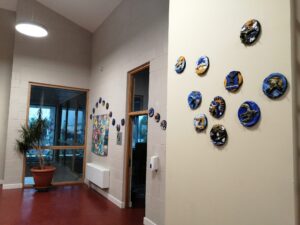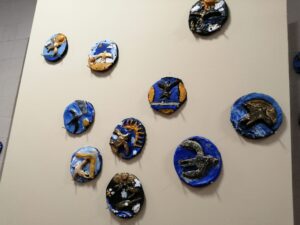 In addition to this, a beautiful murmuration of Swifts has arrived upstairs in the foyer, (along the wall to the library /opposite river), in the form of beautiful, clay artworks by pupils. It ties in fabulously with our Art Percent work (river, heron, flowers, etc).
Huge thanks to Maeve who has led this project over the last two years, with a very creative outcome, encompassing our Green Schools values.
Extension of Cycle Lane on Griffith Avenue
We have been notified by Dublin City Council that the extruded curb protection on the cycle route on Griffith Avenue from its current location just above from the  Ballymun Rd will now be extended from Ballymun Rd Junction as far as Ballygall Road East.
We have been informed that the works will commence on November 1st and should coincide with the mid-term break thereby ensuring minimum disruption to school traffic.
As always please be mindful of other pedestrians/cyclists/motorists on the road when approaching/parking outside the school.
Upcoming:
Educate Together All Together Day on Friday 28th October
Frása na Seachtaine
Bob nó bia! Trick or Treat
Le meas
Róisín Conlon
Príomhoide
AUTUMN FAIR
SUNDAY 23rd OCTOBER

11-2pm
AUTUMN FAIR
SUNDAY 23rd OCTOBER
11PM TO 2PM
NOTE NEW TIME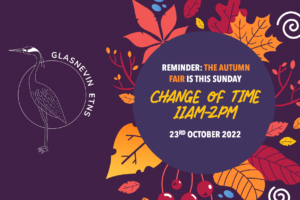 The Autumn Fair is just 3 days away!! We have been working hard to bring you our fabulous 'Reunited' Autumn Fair. Phew, we need some sleep but first some fun.
Please note our time change so come for your morning cuppa and cake, do some shopping, and stay for lunch while your kids go crazy in the Kids zone. We have a very special teacher who's joining us for one of our kids' games. Who can that be?? We also have Basketball, Go Karts, Splat the Rat, Skeleton Toss and Pluck a Duck.
We have changed our photography sessions and it will now be €5 for an individual or €10 for siblings up to 3 or a couple of friends. You can book with Shelagh at [email protected] or walk in on the day.
Holistic area bookings please email Paula at [email protected],
Don't forget to Like our Facebook page for information and updates on the Autumn Fair and other school activities – https://www.facebook.com/ GETNSAutumnFair/.
As with all events during COVID-19 times if you feel unwell stay at home. Please see the following information and guidelines.
https://get.ie/covid-19/   and https://www2.hse.ie/conditions/covid19/
CAFÉ
The Great GETNS Bake Off!
We would like to continue the much-loved tradition of having a wide range of cakes and sweet things available at the cafe. The fantastic displays of prior years were testament to the generosity, support and incredible baking skills of the parents, guardians and grandparents. We are confident that this year will be no different. We would welcome donations of large cakes, tarts, scones, traybakes, fairy cakes, biscuit cakes and cookies. We would love some nice homemade bread for our soup to be donated.
The donations may be dropped to the school from 09.30 am on Sunday 23rd. Thank you.
Don't forget to bring your Pumpkin for the PUMPKIN CARVING COMPETITION. Weird or wonderful, cute or creepy, bring them in already carved on the day to win prizes in 4-8yrs, 9-12yrs and 13+yrs age groups.
Dress up too for our fancy-dress competition, not just for the kids but for the adults too so come dressed in your finest dress up costumes.
VOLUNTEERS.
We still require volunteers so it's not too late to put your hand up.
We also need volunteers for Set Up on Friday 21st at 2.20pm and for Clean Up on the day of the Fair Sunday 23rd after 3pm. Please contact Valerie Tavares [email protected].
The Autumn Fair Organising Committee
(2nd class Parents)
Marena ([email protected])
Valerie ([email protected])
Maria ([email protected])
***
Other invites…
 Dear GLASNEVIN EDUCATE TOGETHER NS

The Grandparents' Faith Café will open again online on Tuesday 8 November 2022.

The CGA is delighted to announce Father Liam Lawton as guest speaker. He will speak on the theme of Remembrance.

Registration is open now

Registration Link

After registering, you will receive a confirmation email containing information about joining the meeting.If you have any queries about the Faith Café please email us on [email protected].

With love and prayers,
Catherine Wiley – Founder of the Catholic Grandparents Association
National Parents Council Primary
When : 22nd October, 11 AM – 4 PM
Where : Ashling Hotel Dublin, Parkgate Street, Dublin 8
Please register for free using the link provided here: Reimagining the Summer Programme: NPC Special Education Needs Assembly Tickets, Sat 22 Oct 2022 at 11:00 | Eventbrite