Dear Parents and Guardians/A Thuismitheoirí agus a Chaomhnóirí,
Autumn Fair – A Massive Thank you
Huge thanks to the three key organisers who rallied the troops and put so much time in planning, motivating and executing the whole operation that is the Autumn Fair.  It was a truly wonderful whole school community event and absolutely not possible without the dedication of Marena, Maria and Valerie.  The money raised will go towards funding the following:
Occasional treats eg. Panto online for all the classes for Christmas
Books – readers at junior end of the school and text books for the senior classes
Outdoor Classroom
ICT update
Bean Bag in the Library
Other curriculum resources (Gaeilge, Maths, Science)
Art Day
Science Week
School Transport throughout the year for sporting and other outings.
Sum of money was found in the PE Storeroom at the Autumn Fair.  Please contact the office to claim this.
Autumn Fair Photographer: Our lovely photographer is busy editing and proofing your fabulous photos. He'll be in touch very soon with your prints. But please remember his time is voluntary and we ask for your patience while he does his magic.
Trick 'r Treat for Temple Street
As always, all children are invited to dress up for Halloween tomorrow and to bring in €1 or €2 for Temple Street.
Upcoming:
Swimming classes being for 4th class on Thursday 10th November for 6 weeks.
Educate Together One Day Together fundraising event in November
Frása na Seachtaine: 
Chuaigh na páistí ó theach go teach.
The children went from house to house.
Chonaic na páistí tine chnámh.
The children saw a bonfire.
Le meas
Róisín Conlon
Príomhoide
Autumn Fair Thank You
Hi Everyone – Well, we did it – after a 2-year absence it was wonderful to be back. Congratulations all.
Huge thanks to everyone involved:
Susan Fennessy and her team – the café, food, coffee, and cakes were delicious, and the presentation was amazing! The delicious soup and curry were compliments of Meji who spent hours cooking for the day. Thanks to everyone who baked, bought and made sandwiches or bread for the soup. What a job you guys did.
Alan Doyle – The dark horse of the fair this year that managed the online raffle, sorted us out on Slack and stepped up to manage Security with just a few days to go. They kept us all safe and sound throughout the day.
Paula Keating presided over the holistic treatments which was super this year, sourcing therapists and creating a haven of blissful calm away from the mayhem.
Carol Plummer, Eimear McCann, Julia O'Leary and Alwyn Bourne – our raffle committee outdid themselves this year, securing amazing prizes – this took weeks of asking favours, sending begging letters and long nights of wrapping! You excelled yourselves and thanks to all the children and parents who sold raffle tickets for the school. Carol did most of this with a baby in a sling!
Sarah Clinton – Our amazing advertising executive who organised all the designs for the posters and raffle tickets. Thanks to Siofra for keeping Facebook up to date. Thanks so much to Greg for getting the raffle tickets printed and organised. Stellar job!
Ciaran Donnelly – The man always quietly works away every year with his fruit and vegetable stall. Giving away the last of it free to people leaving.
Hans Visser and the scream team who designed, resourced and put together this year's Haunted House, spooky pathway and scared the wits out of us all in it. They spent days setting it up and days afterwards cleaning all the mats. Thank you.
Viv Micham and her team of elves, who spent hours sorting and organising – the toy stall that looked just like the Late Late Toy Show (until the children arrived!)
Suzanne O'Regan – Arts & Crafts – a beautiful display of the array of the art and creativity to be found in the school community.  And for sorting out the wonderful maps of the school.
Chris Judge for selling his lovely cloud designs.
Huge thanks to Trevor Flanagan for stepping up and making the burgers and to Gary and Jill for preparing and dishing them out. And to Aisling Sweetman and Louise Byrne on Hot Dogs keeping the kids fuelled to then go eat more junk.
Caroline Gibney and Clemence (6th Class) for the wonderful Sushi and Bobba Tea. We hear the stormtroopers loved it.
Catherine and Dan Byrne and Liz Musioz on sweets – they bought all the sweets and juice and who kept our children topped up with sugar throughout the day!  Rose Wall – For sourcing and selling popcorn.
 Praha – and his teams of cheerful volunteers that looked after and entertained the children in this year's Kids' Zone. And Cameron Doyle for playing taxi driver getting all the go karts and BBQ to us.
Colin Delaney and Elaine– thanks for maintaining a quiet corner in 6th class for those watching a movie. It was a truly super spot for the smallies.
Susy Neuhauser, Lara Visser, Rachael Ryan and team – our resident book lovers worked hard to sort through the tons of donations.
Karen Ruane, Linda Meechan and Helen Byrne – Bric-a-Brac really sparked imaginations, leading to far more treasures to be found.
 Thanks to Pat McBride and his DJ skills, who kept the atmosphere electric at the fair.
Catherine McLoughlan, Sinead McKeon and Lisa Anderson – Our fabulous fashionistas and their team set up a gorgeous boutique full of desirables. Thanks Lisa for stepping in when Michelle hurt her wrist. Hope you're recovering Michelle.
Rachel O'Hara, Niamh Frost and their fantastic team – Huge thanks to you all for painting our nails and faces and beautifying us with tattoos and hair braiding. Zhongxin Zhang for bringing the hair salon to GETNS.
Cliodhna O'Neill and Ashley O'Neill – kept the children going with hot chocolate and treats and tea/coffee for the adults.
 Thanks to Deirdre Parker and Joanne Conway for our fantastic admission desk and taking the Jellybean guesses.
Community Garda led by Laura Kavanagh kept us all safe.  Thanks to you all.
Our fabulous photographer Brian Lawless and his assistants Shelagh Guthrie and SNA Carol who made sure everyone was groomed and ready for their "close up". Special thanks to Mark Stanley who went round the school taking pics and making us laugh for the camera. Brian is busy editing and proofing your fabulous photos. He'll be in touch in due course with your prints. Please remember his time is voluntary and we ask for your patience while he does his magic.
 Debi Stack – who worked on sustainability, cleaned up afterwards and delivered any left-over toys, books etc. to a well-known charity who will put them to good use.
Michelle Lawlor on ordering the bins, setting them up, putting labels up to show what went into everything and made a load of stuff for the arts and crafts table.
Past pupils – a huge thank you to you all for coming back to your alma mater to help out so generously!
Ian Parker – Huge thanks to you again, that worked tirelessly getting bossed around by a woman (other than your wonderful wife Deirdre!) all day Friday and Sunday. Big thanks to Layla and Finn that did exactly the same!
A massive thanks to Daniel Brophy our Junior Infants Teacher that got into the spirit of the fair and what it's all about by getting soaked sponges thrown at him throughout the day. He made the most money in the kidszone area!
Thanks to the 501st Star Wars guys that came and entertained the kids. They were a huge hit.
Thanks also to everyone who sourced donations from shops and businesses for the stalls, who scattered the school and WhatsApp groups with posters and flyers and who decorated our lovely school on the day in question. Thanks to all the team that helped set up on the Friday and clean up on the Sunday.
 Of course, this dream team could not have done it without the help of the amazing people who come in and out of our school every day – the parents, guardians, teachers, children and of course Nicky Callaghan, who all helped to make this the best day ever.
Finally, a huge thanks to Order of Malta who ensured we were prepared for any cuts and scrapes.
Thanks a million to you all. We have an amazing school, which we should all be proud to be a part of.
Marena Duffy, Maria O'Reilly and Val Tavares
Raffle prizes and Thanks to
This year's Autumn Fair was a super successful event. This would not have been possible without the generosity of the following:
Delphi Lodge / Moyvalley Hotel / Brady's Butchers for the fabulous burger donation / Evelyn for the Fitbits / IKEA / Andersons / Calla / Ronan Wall for Brown Sugar and Tropical Popical vouchers / Polished / Barry Balloons / XL (The Gem) / Corrigans Butchers / Haven Pharmacy / Garden power wash / Johanna King Photography / Home Focus / Homebase / Croke Park / Cara Jewellers / Cloud Picker coffee roasters / Boots Omni / JYSK / NIKE / Lidl / Costa coffee / AM Frames / Skylon Hotel / Thunders.
If you've helped and you're not here, we really appreciate your kindness. We're just a bit sieve-headed, wrecked and have children.
Thank you so much.
Maths Week
Maeve's 4th Class
4th class had wonderful fun learning how to play Mancala and a new card game called Crazy 8's as part of maths week.
Sorcha's Junior Infants
Maths week in Junior Infants. The children loved having our two volunteer parents in to play snakes and ladders as part of maths week. Many thanks to Sylvia and Oisín for organising it, Alc Blue for supporting and our volunteers Martina and Catherine.
Dee's 1st Class
Happy
Both hands 'a' handshape, palms facing each other.
Move up and down together in front of chest twice.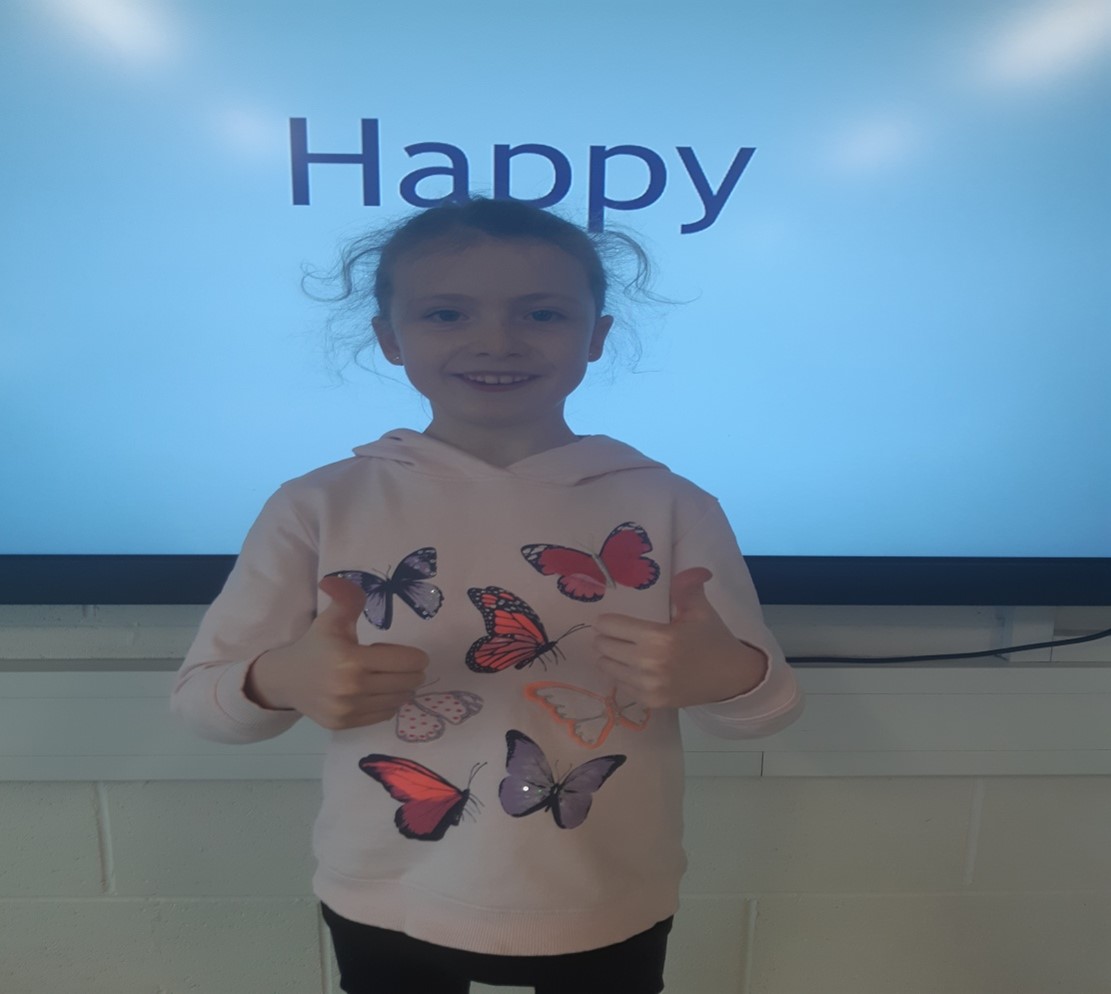 Yes
Both hands in 'L' handshape, left hand palm sideways, fingers forwards
Right hand palm facing self, fingers sideways in front of body
Tap right fingertips on left palm and nod head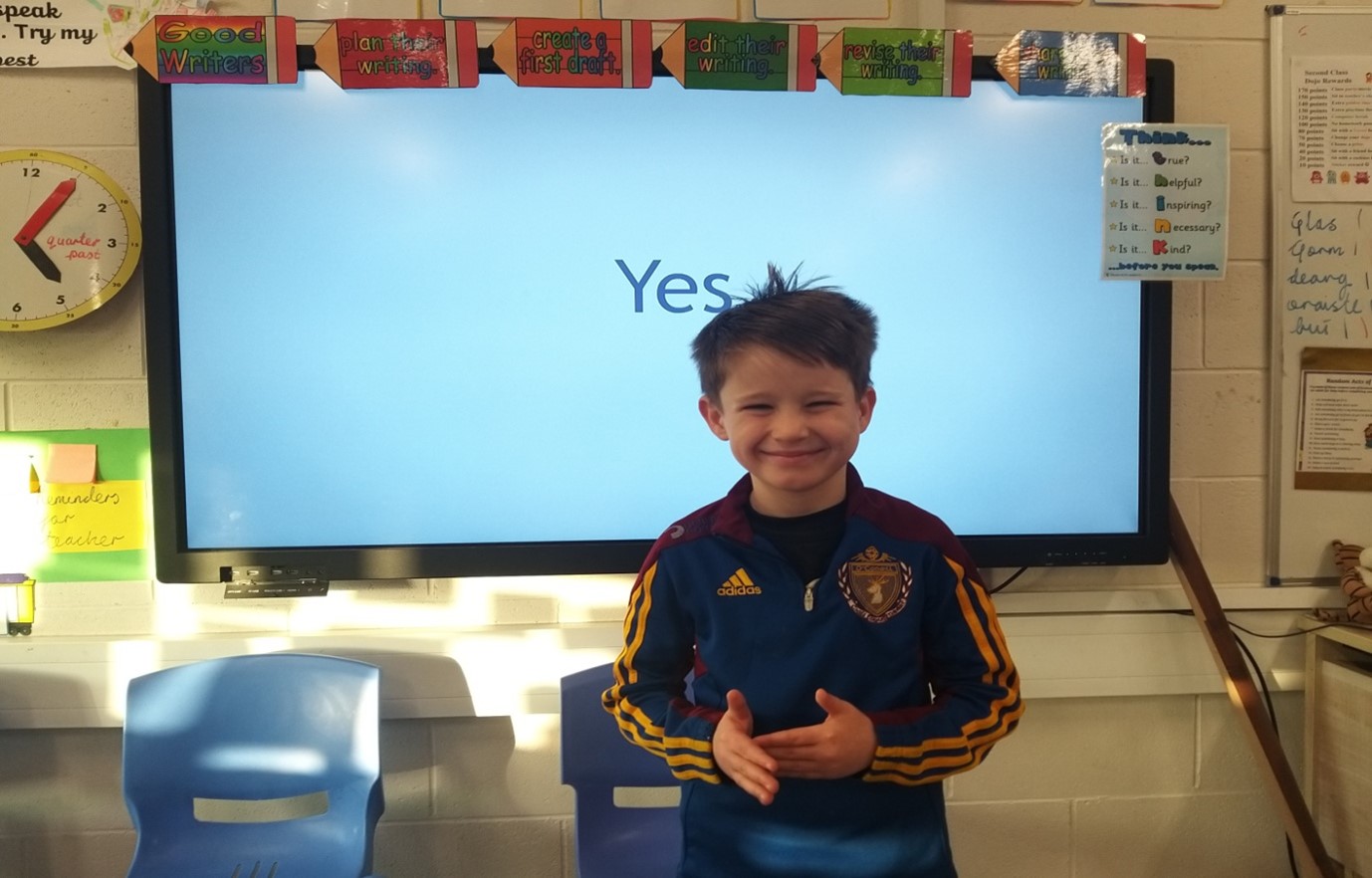 Goodbye
'L' handshape, palm facing outwards, at shoulder level.
Move fingers up and down repeatedly.
Play
Both hands 'i' handshape, palms to self at chest level.
Flick your little fingers off each other as you move your hands in and out of your body.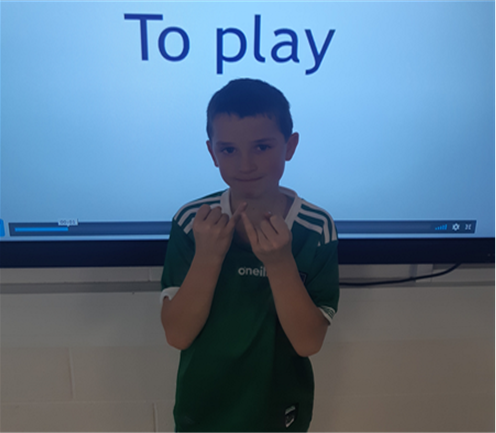 Outdoor Classroom
Thanks to Mick our outdoor classroom shed is assembled and in place and it's nearly ready for the arrival of the logs and mud kitchen.