Dear Parents and Guardians/A Thuismitheoirí agus a Chaomhnóirí,
My work is done here with huge thanks to the below wonderful pupils and staff.
Person(s) with a Van Wanted
With thanks to a generous donation from a parent we have some materials that need to be transported for use in our Outdoor classroom.to the school. Please contact the school email ([email protected]) if you can help.
Martin Luther King Day
After listening to Martin Luther King's "I Have a Dream" speech for Martin Luther King Day on Monday, Rio and Louis R in 1st Class made this Lego replica of his famous speech at the Lincoln Monument in Washington DC. Grace
3rd class wrote poems using quotations from Martin Luther King as inspiration to celebrate Martin Luther King Day. Attached are poems from Hannah and Emilia (see below). Oisín
Ceannairí Gaeilge
We have formed a team of Ceannairí Gaeilge (see photo of them below) to help lead and promote Gaeilge throughout the school. Two were elected from each class from 3rd to 6th.
Oisin's 3rd: Harry agus Hannah
Emma's 3rd: Ariya agus Sophie
Maeve's 4th: Dylan agus Odharna
Aisling/Naomi's 4th: India agus Sam
Colm's 5th: Caoimhe agus Henry
Niamh's 5th: Bowen agus Luke C
Pádraig's 6th: Robert agus Clemence
The children are bursting with ideas and enthusiasm. They make a great team.
Aoife agus Aoife
Student Council
Student Council members are:
3rd Class: Sadie, Georgie, Daniel, Emily
4th Class: Elsa, Cathal, Eve, Lachlan
5th Class: Cillian, Bobby, Eli, Cal
6th Class: Robert
ALC: Ethan;Cara
Teacher Rep: Sorcha
Here are what two of the student council members have written about what the role of the student council is;
"Someone who can listen to others and create ideas themselves for the good of the school."
"A way for the students and the teachers to communicate and to represent the students' ideas"
We have had two meetings already and have decided to have a rotating chairperson for each meeting, beginning with Cara from 6th class and Bobby was elected secretary and will be keeping the minutes of our meetings. The Student Council members have already been busy discussing what we do well as a school and identifying things they think we can improve on. We will publish updates from our meetings in upcoming Thursday letters.
Our Trip to The Young Scientist Exhibition
Last Friday, 6th class attended The BT Young Scientist Exhibition in the RDS. We got the number 4 bus from Glasnevin and it took us right outside the RDS. Some of the children in our class even managed to get a selfie with Micheál Martin!
Here are some facts we learned:
Some make up brands can be very harmful to your skin and others can be very good for your skin so it's worthwhile researching what products to use and which are suitable for your skin.
157 make up companies in America use harmful ingredients in their products.
We went to a 3D experience and learned that when rockets are launched they can leave debris in space. There are people in Japan working to be able to use fishing nets to collect this debris from space.
Dublin has the most polluted rainwater in Ireland while Galway has the cleanest.
During Covid dogs became very stressed and one of the projects found that playing music to your dog can help to relieve their stress.
Reading aloud in class can cause a students heart rate to rise.
There are exoskeleton suits that people w'ho work in physical jobs can do to help them do their job.
We really enjoyed the trip!  See some photos below.
Important Information from HSE
Please click here to see important letter from HSE
Reminder:
Please arrive to school on time as many classes are doing circle time and other learning activities at 8:40am, coming in later than this disrupts the whole class learning and means your child is missing out.
Please use Park 'n Stride on Griffith Avenue passed Ballygal Road junction.
Bank Holiday: Monday 6th February 2023 – School closed
Mid-Term Break: Monday 13th – Friday 17th February 2023
For Primary Language Curriculum Training school closes at:

12pm on Friday 3rd February 2023
12pm on Thursday 16th March 2023

School Photographs will be taken on 14th March 2023
Frása na Seachtaine:
"Bhí sioc ar an talamh." – "There was ice on the ground."
Le meas
Róisín Conlon
Príomhoide
Grace's 1st Class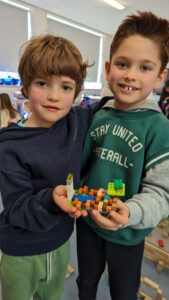 Oisín's 3rd Class


6th Class Trip to BT Young Scientist
Student Council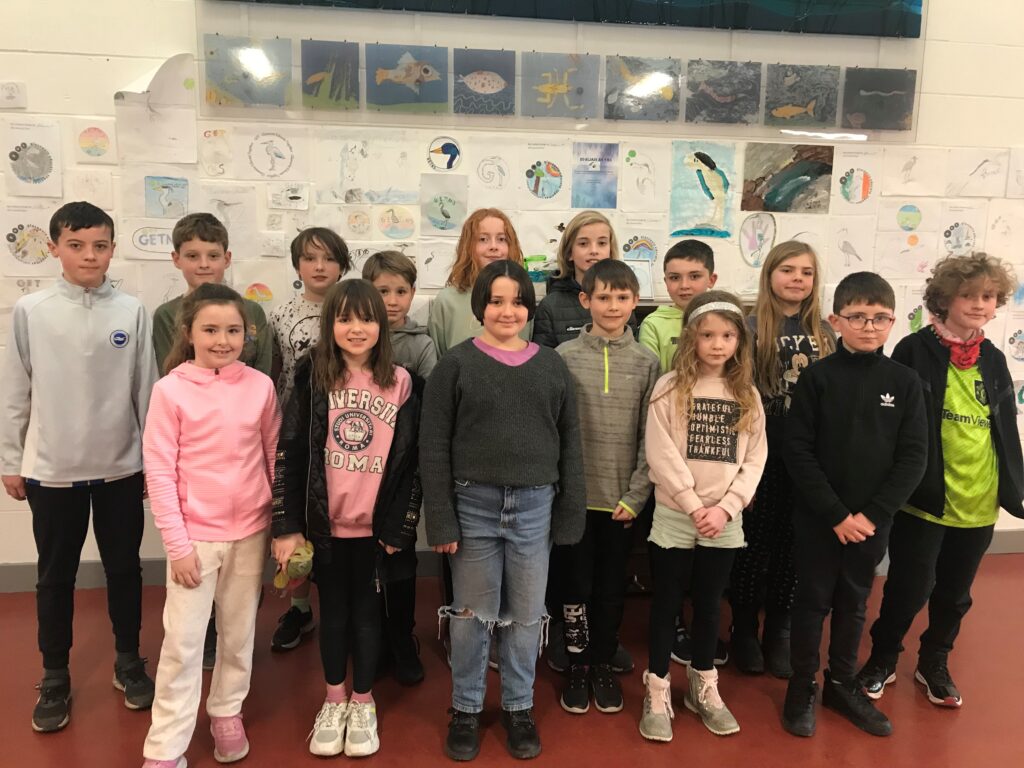 3rd & 4th Classes Art Work