Dear Parents and Guardians/A Thuismitheoirí agus a Chaomhnóirí,
Early Closing on Wed 19th February
To facilitate ongoing Primary Language Curriculum training, the school will close at 12pm on Wednesday 19th February.
Assembly Today
The assembly's value today was friendship and inclusiveness. Two boys in Maeve's class played the Ekulele at Senior Assembly.
Credit Union Schools Quiz
Some of the 6th class children will be taking part in the Credit Union Schools Quiz tomorrow morning in St. Patricks BNS Drumcondra. Best of luck to everyone!
Road Safety Awareness Week
Road Safety Awareness week will begin on Monday 3rd February and thank you to the parents who will be in the school grounds at 8:40am and 2:20pm each day to raise awareness of safety for pedestrians and motorists. Just to remind parents/child minders/creches that there is a drop off area for cars at 8:40am but there is no parking in the school grounds at 1:20pm and 2:20pm.
Active School Flag
As part of the Active School Flag process, we would love to get your views on how you feel about PE & physical activity in our school, as well as your suggestions how we could improve the process.
We would be very grateful if you could complete the following short survey. It should take no more than 2-3 minutes.
https://docs.google.com/forms/d/e/1FAIpQLSe50e2FH4ZbBI-p6ub0WcWBxLG63kPFUNsaMOHPmmBayXB5Zw/viewform?usp=sf_link
Thank you in advance,
The Active School Team
Please see below the Active Schools Newsletter
ECAs
Term 2 registration will be made available within the next few days. We apologize for the delay, as we are waiting for confirmation of a few final details. Class information and the registration link will be emailed to all parents via the school and PTA, so please keep an eye out, hopefully Friday.
"The Broken Doll" Sales Donated to Charity
Well done to Mary, Sarah, Amelie and Annie who donated the sum of €220.08 to Simon Community last week from the sale of their book. Another book on its way soon!
Reminder:
• There are already a number of items in the Lost Property box, please check. Child's bracelet was found on path outside school on Wednesday, call to the school office.
• School closing early on Wednesday 19th at 12pm.
• Junior Infant vaccinations on 27th February
Frása na Seachtaine: "An féidir liom cabhrú leat?" – Can I help you?
Le meas,
Róisín Conlon,
Príomh Oide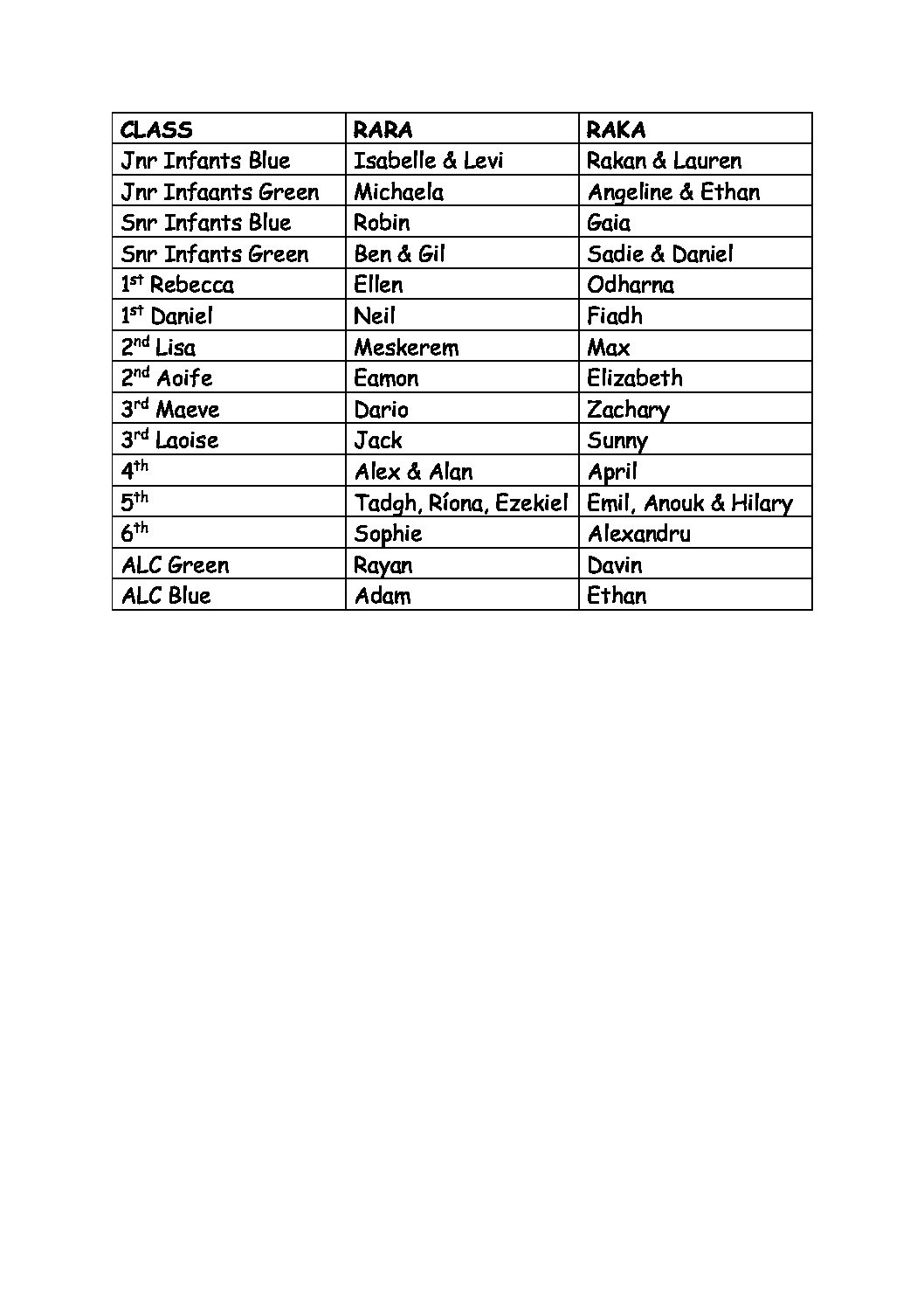 Active School Newsletter
Students have been enjoying going [email protected] breaks every morning at 10am for the last two weeks. The videos are a great way to energise the school day!
Active yard games are going well and the children are all having fun playing hot seat, a basketball game & being active with the hoola hoops & skipping ropes.
We are now encouraging all children to do their walking while they are talking in yard to promote a more active yard!
We hope everyone is enjoying our active homework & would like to remind parents to sign Super Trooper journals every evening. This is a whole school initiative as part of our active school flag process.
This year we have been focusing on particular PE strands each term. So far we have covered games, gymnastics & dance and we are currently working on aquatics or athletics. Some classes are also doing GAA with Mark from na Fianna. The final strand we will be working on this year is outdoor & adventure.
As part of our whole school PE plan we have been focusing on fundamental movement skills (FMS). The twelve fundamental movement skills are: balancing, running, jumping, catching, hopping, throwing, galloping, skipping, leaping and kicking. There are teaching points for each FMS that teachers focus on in their PE lessons.
Fundamental Movement Skills are the skills which children need to participate successfully in all types of games, physical activities and sports. Research suggests that children who are competent in FMS are more likely to enjoy sports and activities and to develop a lifelong commitment to physical activity. Children who have achieved proficiency in FMS have been found to have better self-esteem, social skills and a more positive attitude towards physical activity.
The current FMS we are working on is walking. Walking technique is often taken for granted; however, it is an important precursor to other fundamental movement skills.
https://www.safefood.eu/Start/Welcome.aspx – a great website with helpful tips on healthy living; healthy meals, snacks & recipes & how to be more active as a family.
Remember to check the ASF section of our website for ASF updates & photos!