Dear Parents and Guardians/A Thuismitheoirí agus a Chaomhnóirí,
Value of the Month – Co-operation
Co-operation is about "helping one another, working together with patience, a collective effort to reach a shared goal".  Tomorrow, we hope to see some co-operation in action in celebrating and doing what we can to live up to our ethos and our shared values.  We appreciate your encouragement and participation in the following actions:
Climate Action Day
Green travel day – we'd love to see as many people as possible walk, cycle, scoot, skate to school tomorrow.
All of the children and staff will take part in a sit-down protest in the yard in support of climate action.
As part of our whole school assembly, we will share some work and learn a little about climate action.
Daffodil Day
Everyone is invited to wear yellow for Daffodil Day and make a donation of €2 for important much needed ongoing cancer research.
St. Patrick's Day Celebrations
We had lots of fun i rith Seachtain na Gaeilge and particularly enjoyed craic agus ceol agus rince ar on lá deirneach, mile buíchas Paádraig, Ailbhe, Clemence as gach daoinne.
Visit to Ballymun Library by ALC Green
ALC Green really enjoyed visiting Ballymun library. We were meet by Maria, the very helpful and friendly head librarian. Everyone became a member and borrowed a book to bring home and enjoy. Maria read us a funny story 'Not Just a Book'. We definitely recommend a visit (see photos below) – Kathy
Down-Syndrome Day
We had a great show of colourful funky odd socks in support of Down Syndrome Day!!
Visit from Richie
It was a real treat to meet Big Man Richie, a great character, who presented a slide show to four classes on his colourful life as a resident of St. Michael's House.
Gaelic Football Matches
The Girls and Boys Gaelic teams played their final matches this week with great team performances.  They should be very proud of themselves!!  We look forward to the Hurling and Camogie competitions after the Easter break.
ECA's are Back
Please see below for all the information in relation to the upcoming ECAs.
PTA organised School Walk
Save the dates of 28th March to 3rd April for PTA Step Challenge, culminating with a walk to Albert College past the school gates.  Thanks to those busy organising this event.  Keep an eye out for the go fund me page
Fiche Bliain ag Fás
To mark our 20-year anniversary we are going to change our emblem from the hand to the Heron.  The children are invited to make contributions (see attached).  If there are any graphic designers among you who would like to help with this, please get in touch.
Reminder:
School Closed on Friday 8th April at 12pm and re-opens on Monday 25th April 2022
Frása na Seachtaine: "Bí ag súil ar scoil" – Walk to school"  "An dtiocfaidh tú go dtí an siúlóid scoile?" – "Will you go to the school walk?"
Le meas
Róisín Conlon
Príomhoide
St. Patricks' Day Celebrations
ALC Green visit Ballymun Library
Down-Syndrome Day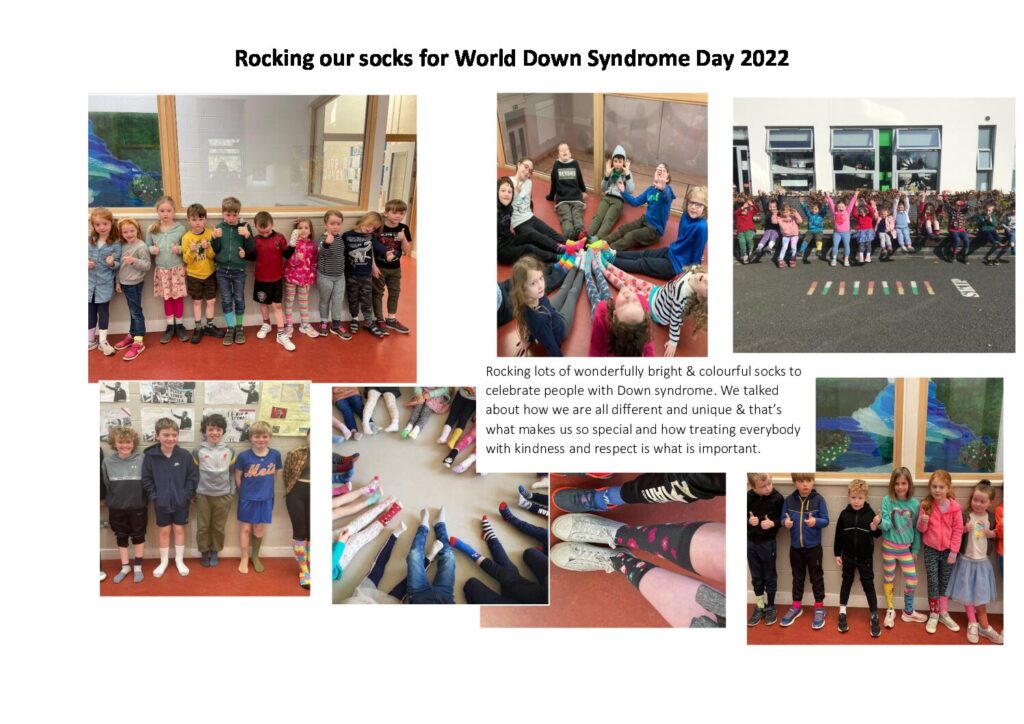 Visit from Richie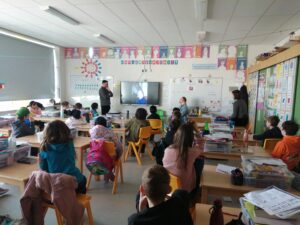 Gaelic Football Teams
Fiche Bliain ag Fás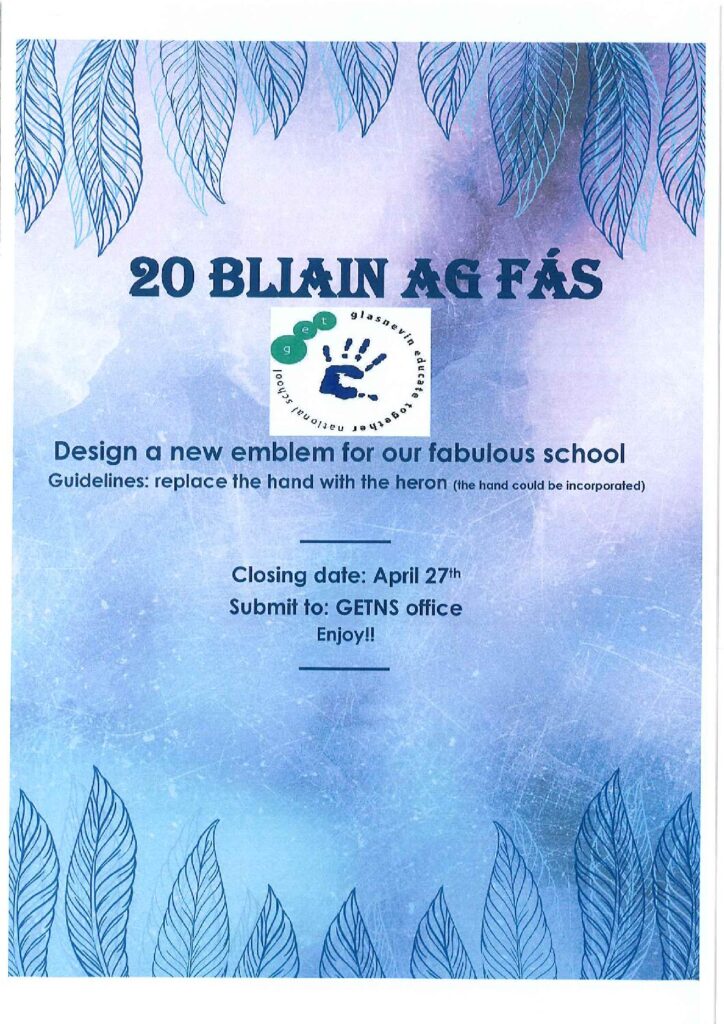 ECA's are Back!!!
We're delighted to announce the return of the school's Extra Curricular Activity Programme. Beginning on Monday April 25th and running until Friday June 24th, the school will offer a range of classes to suit all tastes. Below are details on the classes on offer as well as the weekly timetable.
This year booking for classes will be done through our new online booking system. The system will allow for students to apply for classes they like in order of their preference, but places are limited to 1 ECA per child. (We plan to roll out a larger ECA programme in September, when students can avail of more than one class).
As a result of this, the demand will be high – so places will be allocated on a first come, first served basis.
The booking system goes live next Thursday (March 31st) at 3pm. The link to the booking form will be in that day's school newsletter. So, have a look below, work out your plan, and be ready to book at 3pm next Thursday!
Any queries about the ECAs can be made to the ECA committee (Christine O'Flaherty, Maria O'Reilly, Martina Naughton, and Alan Howley) at [email protected]
Glasnevin Educate Together National School

Extra-Curricular Activity Timetable, April to June 2022

Day

Activity

Provider

Available to

Fees

Notes

Monday

Soccer
Keith Lyons, KL Football Coaching
1st & 2nd Class

2.20-3.20  

€60
Maximum 12 per group, minimum 8.

No class May 2nd and June 6th

Science
Anyone4Science

Christine Campbell

SI-2nd Class

(2.20-3.20)

€100
Maximum 20 per group.

No class May 2nd and June 6th
Tuesday

Athletics & Games
Lisa Madden, GETNS
3rd – 6th Class

(2.20-3.20)

€50
No class Tuesday 7th June

Maximum number 20

Drama
Padraig McCarthy,

GETNS

1st-3rd class

(2:20-3.20)

€50
No class Tuesday 7th June

Maximum number 15

Drama
Rebecca Sanders,

GETNS

4th-6th Class

(2.20-3.20)

€50
No class Tuesday 7th June

Maximum number 15.
Wednesday

Well Being Warriors
Daniel Brophy,

GETNS

4th-6th Class

(2.20-3.20)

No fee
Maximum number 12
Soccer
Keith Lyons
3rd Class

(2.20-3.20)

€60
Maximum 12
Thursday

Judo
David Moloney, Cabra Judo Club
SI-6th Class

(2.20-3.20)

€50
Maximum number 20
Arts and Crafts
 Colm and Maeve, GETNS
1st-6th Class

(2.20-3.20)

€70
Maximum number 30
Friday

Dance
Donna Moran, Fit Kids
SI-6th Class

(2.20-3.20)

€80
Min number: 16

Max number: 45

No class June 3rd

Sibling 10% discount

Chess
David Fitzsimmons, GETNS
2nd – 6th class

(2.20-3.20)

No fee
Maximum number 28
Music 
Gerard Corcoran, RNS School of Music
1st & 2nd Class

(Ukulele & Guitar)

(2.20-2.55)

€90
No class Friday 3rd June

Maximum 8 in each group

3rd & 4th Class (Guitar)

(3.00-3.40)

5th & 6th Class

(Guitar)

(3.45-4.30)
Descriptions of Classes
Science
Christine Campbell, Anyone 4 Science
Welcome back to another term of fun hands-on science. This term we're excited to offer two science classes, so that children can be split up further by age and the experiments can be targeted to their age, stage and learning level. At the science club, we take subjects usually studied at third level and introduce them to the children through a range of age-appropriate hands-on activities. Some examples of topics covered are this term are; Food Science and Human Digestion
Junior Soccer
Keith Lyons, KL Football Coaching
Is your child interested in football? Maybe they have been wanting to start? At KL Football Coaching, we look to combine teaching of football skills/techniques while having lots of fun. We aim to provide a positive learning environment for boys & girls of all levels to help improve their football ability. We have experience in helping children build confidence, help make new friends & improve life and motor skills. Football Association of Ireland accredited coaching. Class will meet in GETNS and Keith will have use of hall if weather does not permit football outside.
Please note: Soccer is open to children of all abilities and experience, boys and girls! If you love soccer, come join us for fun and skill building sessions!
Drama
Padraig McCarthy, Teacher GETNS
Teacher Padraig is running a Drama class with our junior group and with a Iittle difference. Padraig looks to put a 'move and groove' class together where children are encouraged to exercise but without having to engage in competitive sports. It allows children to exercise in an environment where there is no winning or losing, and encourages physical activity to those who do not like playing traditional sports.
Senior Speech and Drama
Rebecca Sanders, Teacher GETNS
Teacher Rebecca is running a Speech and Drama class with our senior group, developing the childrens' confidence through games and small group and pair exercises, moving on to small group scene work and monologues.
Athletics and Games
Lisa Madden, GETNS Teacher
This club will focus on a range of athletics activities & games to develop fitness and enhance agility, co-ordination and balance. The focus will be on fostering an understanding and appreciation of athletics in a fun, positive and engaging environment. Opportunities will be provided for children to challenge themselves and improve their performance in a range of running, jumping (hurdles, high jump, and long jump) and throwing (shot put, javelin, ball) activities. Children will also have the opportunity to play and develop their skills in team sports and games such as basketball, bench-ball, dodge-ball, and tag rugby.
Wellbeing Warriors
Daniel Brophy, Teacher GETNS
Teacher Daniel is introducing Wellbeing Warriors. This is a new ECA for the school. Wellbeing Warriors is a therapeutic programme delivered over the term for some of our older children. It looks to promote wellbeing and self-esteem in the children. It is fun, creative, and interactive, and allows for groups of mixed ages and abilities, with each programme being tailored to the needs of the children participating. The programme is intended for those children who may have been through or are having adverse childhood experiences (ACE's), those who are lacking confidence, children who require a nurturing approach, those who are involved in transitions, children involved in the social care arena, or for those who need support in boosting their self-esteem and confidence, and building upon their resilience.
Arts and Crafts
Colm Campbell and Maeve Bates, Teachers GETNS
Arts & Crafts club is back! The club allows children to develop their creative sides in a fun and relaxed way. Each week, children create a new work of art which they get to bring home to wow their friends and family. The classes cover a variety of arts and craft activities including drawing skills, painting techniques, construction, mixed media and art appreciation. The cost for the club includes the supply of resources for all activities, so all children need to bring is enthusiasm and a smile. Note: Some art/craft activities may take two weeks to complete to allow for paint to dry, glue to set, etc.
Judo
David Moloney, Cabra Judo Club
We are so excited to introduce Judo to GETNS for the first time! David is one of the coaches at Cabra Judo Club, alongside former Irish Olympian, Alonzo Henderson. Judo instils the values of honesty, modesty and courage while building on your child's fitness, strength and discipline. The boys and girls of GETNS practice together which builds on the core value of friendship. David is keen to offer this opportunity to children of all abilities and has worked with children with ASD.
Note: mats will be provided.
Chess
David Fitzsimons, Teacher GETNS
Our very own International Chess Master David runs this thriving Chess Club every Friday. Chess is clearly enjoyed by many children at school and the game has huge educational benefits.
Music – Ukulele and Guitar
Gerard Corcoran, RNS School of Music
It is lovely to welcome to GETNS Gerard Corcoran, the founder of RNS School of Music. Ger, who has a background in music education and teaching, and has over 10 years' experience of teaching guitar and Ukulele, works with students of all ages, and loves to incorporate fun games and activities in to his lessons. Ger is also a songwriter and performer, having recorded some of his own compositions.
Both his Ukulele and Guitar lessons are designed for complete beginners or for those who might have someone experience with the instrument already. So, if you think your child might like to be the next Rory Gallagher, then this might be a good start!
Please note: students must have their own instrument and tuner, but Gerard is happy to advise.
Dance
Donna Moran, Fit Kids/Fit Teens
Irish Hip Hop Master Champions, Fit Kids/Fit Teens dance classes are back! All of the boys and girls attending will learn the latest Hip Hop and Breakdance moves, and can take part in a little show for parents and guardians to enjoy at the end of term. FKFT classes have been described as a 'movement' for children. They not only learn the latest dance styles to current chart songs but gain confidence, balance and fitness while having fun. Donna and her crew FKFT placed second on TV3's Ireland's Got Talent in 2018, and are in high demand for workshops around the country. Donna and the infamous Raw Edge Crew have represented Ireland in The World Hip Hop Championships, made the Semi-final of Sky One's Got to Dance, and are regularly seen on TV or performing at charity or corporate events. The Fit Kids/Fit Teens classes have a real party feel to them, where the aim is to motivate everyone to dance, stay fit and healthy in a fun way!