Dear Parents and Guardians/A Thuismitheoirí agus a Chaomhnóirí,
Entering & Exiting the School Grounds from Tuesday 22nd March 2022
With the lifting of restrictions and the development of the cycling path right up to the school gate we envisage some necessary changes to ensure safe entry and exit of all.
All pedestrians will use the pedestrian gate only, morning and afternoon.
All cyclists, scooterists, etc. disembark and walk through the pedestrian gate.
All motorists will use a one-way system; there will be no crossing the road within the school grounds
Majority of motorists have two options

Use designated park and stride and walk through the pedestrian gate
Use set down area on the left-hand side only to allow kids to get out of the car, then drive on around the roundabout and out.

Motorists related to ALC

Taxis will use staff parking area
Parking facility for two cars adjacent to flagpoles; any other cars parked are staff cars including disabled parking area.
Children to Enter Classrooms Independently
Staff have observed many benefits to a calm, quiet, child centred start to the day leading to improved learning focus throughout the day and wish to nurture this independence in the children.
Infants will continue to be dropped in and collected as always, to/from class external door (no change)
1st Class children will be dropped to GP Hall door and no change to the end of the day.
2nd Class children will enter through the main door and straight to class.
3rd – 6th Class children will continue to enter/exit the school through the same routes, rather than assembling, they will go straight to their classroom.
Return to Mixing of Classes
We are delighted to enable some mixing of the classes during yard time and the children have broader circles now to socialise with.
Seachtain na Gaeilge
We are all really enjoying the programme for Seacthain an Gaeilge and it was particularly lovely to have a bunch of classes together in the hall for a spectacular live harp performance by our very own Aoife.  The children asked very clever questions.  Bhí sé ar bhfeabhas, go raibh maith agat Aoife!!
Paired Reading
Its wonderful to see our library being used again with younger and older peers sharing the pleasure of reading
Engineering Week
With huge thanks to Sylvia the children across the school have participated in at least one practical engineering activity providing the resources, etc. See below example and photos.
ALC Blue: We have been really creative with all our activities for Engineering week here in ALC Blue. We designed Balloon harnesses for Lego men and tested how far our Lego men could travel before crashing. We made catapults for our poor Lego men too. One of our catapults could fire a Lego man straight across the room! We designed and made our own mini playgrounds as well. We also enjoyed the 'string telephone',  'apple mummy' and 'peel a raw egg' activities from the Engineers Ireland STEPS Engineers week activities.
Engineer Talk
We are very grateful to Martin, Board member and engineer who gave a very interesting presentation and talk to our 6th class children.  Clearly, he piqued their interest considerably as they had many insightful questions.  Thank you, Martin, you may well have further inspired a few future engineers, Leela being one of them.
We look forward to having more guest speakers from our talented parent body.
Gaelic Football Matches
The Girls and Boys Gaelic teams play D7 ETNS in Grangegorman DIT today at 1pm.  All support welcome!!!
School Walk
The Steps Challenge is a PTA arranged outdoor activity to get parents and kids out stomping their neighbourhoods in order to raise money for the school.  It will take place over the week from 28th March to 3rd April with a final walk at the end of the week for everyone to join in which will pass by the school gates.  Each activity should be recorded, and we will collect all activities and see how far everyone walked in total.  Put it in your diary and expect more information to come from the PTA over the next couple of weeks as the first event of 2022. Will it be enough to walk across Ireland? Let's find out!
Reminder: School Closed on
17th March – St Patricks Day
18th March – Public Holiday
21st March – School Closed
Frása na Seachtaine: "Tá an ghrian ag taitneamh go hard sa spéir inniu" – "The sun is shining high in the sky today"
Le meas
Róisín Conlon
Príomhoide
SEACHTAIN NA GAEILGE
PAIRED READING IN THE LIBRARY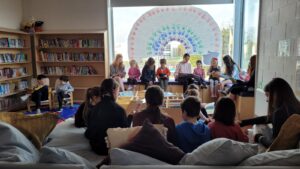 ENGINEERING WEEK
ALC BLUE
3rd CLASS – Designing Playgrounds
Sorcha's Junior Infants
Rose created "an invention that sucks all the bad stuff up and filters it". Also included photo of block construction which includes a cantilevered balcony! Engineers of the future at work
4th Class
We explored how sound travels in waves by making telephone cups. We predicted and tested what would happen if we pinched the string, shorten the string and changed the string to wool. We had loads of fun testing out our theories!
Lisa's Junior Infants
After seeing a big bag of flour being lifted by a pulley into a windmill in the story _Rosie's Walk_, the children made and tested their own pulleys for Engineers Week! We spoke about how pulleys are used by cranes on building sites to lift really heavy things. We also looked at where pulleys are used in school – to pull up and down the window blinds and the school flags. We then made our own pulleys and tested how they make it easier to lift heavy objects in the classroom, like trophies and hand sanitiser and toy lions!