Dear Parents and Guardians/A Thuismitheoirí agus a Chaomhnóirí,
Board of Management Changeover
All current boards will finish on 30th November 2023 and the new board will commence its term of office on 1st December 2023. 
We will hold election processes for Teacher nominees and Parent nominees in the coming weeks.  For further details see below. 
Parent nominees X 2: Parents/Guardians of the school nominate and elect parent nominees.  This is done using either option 1 (meeting) or option 2 (separate ballot).  Please see Appendix B (page 58) of Governance Manual for Primary Schools 2019 to 2023.  It is advised to complete this process by mid-November; we usually do this on the same evening as the Parents' Association AGM.  Please note, it is not within the formal remit of the Parents' Association to organise these elections.
The parents/guardians nominated to the board must be one male and one female.
The board is advised to keep a record of the results of the nomination/election process as they may be used in future to co-opt a parent onto the board if a parent steps down.
Please note parent nominees may be re-nominated/re-elected but must stand as a candidate, it is not an automatic re-nomination.
Role of Treasurer: Each board of management must appoint a treasurer from among the eight members.  We are currently seeking someone with skills suitable to becoming the next Treasurer of the Board.
Length of Service: Each term is 4 years the Charities Regulator advises that for good governance an individual should serve no more than nine years on the board of management.
And More!
Daniel's junior infants having great fun practicing some fine motor skills by cutting and sticking the Humpty Dumpty story in order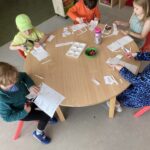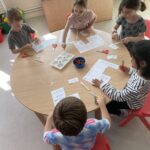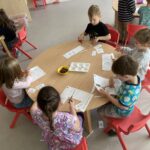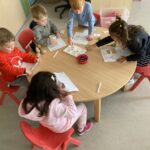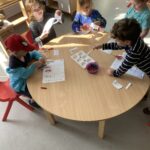 4th class had an absolute treat for Show & Tell last week.
Faye brought in her bearded dragon lizard called Summer. She taught us how to look after her, what to feed her (live mealworms!) and how to handle her and stroke her.
Mia brought in 3 of her African snails. These are the babies. The adults can grow up to about 15cm long! We learned what to feed them (cucumber, strawberries and lettuce) and how to handle them with care.
Thank you, Faye and Mia, for a fascinating morning!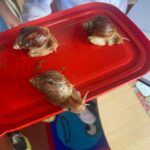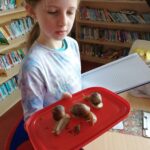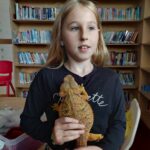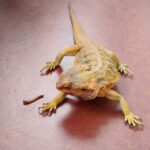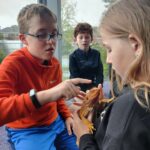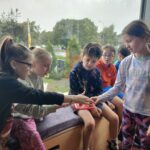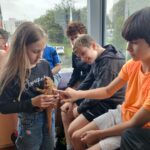 Boys footballers currently in action against Shane O'Toole's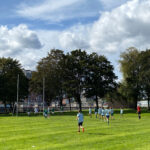 Reminder:
Please arrive to school on time as many classes are doing circle time and other learning activities at 8:40am, coming in later than this disrupts the whole class learning and means your child is missing out.
Frása na Seachtaine: 
"An mó deartháir atá agat?" – "Do you have any brothers?"
"An mó deirfiúr atá agat?" – "Do you have any sisters?"
Le meas
Róisín Conlon
Príomhoide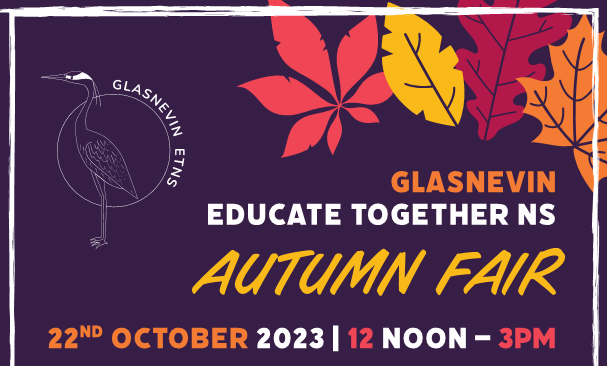 The Autumn fair is only a month away and we need your help to make it a great fundraiser for the school.  Money raised this year is going towards IT facilities and Gaeilge resources.
We need you and we need your stuff – please volunteer through the links below and get all of your clothes that you are not using, toys, bric-a-brac, books and wonderful baking ready to donate!
2nd Class Parents Volunteer Here – https://forms.gle/BLRbaJmFKkMXiMZ3A
Other Years' Parents Volunteer Here – https://forms.gle/j333nurskksm2rek6
 Confirmation Preparation Classes
If you child is making their Confirmation this year, please contact Linda Lambe in Glasnevin Parish on 0871220292.
Open House Junior open for bookinj, some workshops and experiences, all free, of interest for budding architects and engineers. https://openhousedublin.com/junior/  some workshops are drop in some need to be booked.
Tennis Ireland
Dear Parent & Guardian
We have not yet reached full capacity bookings in Johnstown Park for our Autumn programme, commencing this Saturday, 23rd September. There are still some spaces in the following age groups:
5-7 years
8-10 years
11-17 years
We would very much appreciate if you could let your friends know of our affordable tennis coaching programme, and / or  if you have access to a class WhatsApp or Parents Association committee.  Attached are details for our programme in Johnstown Park and if you know of anyone else who would like to book they can do so via the link below:
https://member.clubforce.com/memberships_cart_m.asp?LL_ID=2381&intMF_ID=12913#Anchor
Many thanks for your support!
Kindest regards
Tara Congdon
Tennis Development Officer
Tennis Ireland
Ph: 085 1076000