Dear Parents and Guardians/A Thuismitheoirí agus a Chaomhnóirí,
Embedding Wellbeing
A huge thank you to Lisa and the wellbeing team, for this fabulous work, make sure you read it if nothing else.
Link to Wellbeing Newsletter (for this term). It explains our journey towards the amber flag and the work of our student Wellbeing committee.
PTA Fundraising
Thanks to funds raised last year by the PTA and earmarked for jerseys, the school Team Jerseys have finally arrived; wonderfully sported here by 6th class (see below).
Panto – more recently raised funds through the phenomenal Autumn Fair have enable the online Panto experience for all.
6th Class Visit to The National Gallery last week
Following a very busy November learning about The Renaissance, the children of 6th class visited The National Gallery on Tuesday. They had the wonderful opportunity to explore some art from The Renaissance period including 'The Taking of Christ' by Caravaggio – a very famous renaissance artist. While we were there the children had the opportunity to explore art from other periods as well as some Irish artists and artwork.
Dee's 1st class embracing the freezing temperatures (see below)
Junior infants Blue went on a wintry walk to spot ice and frost in the school "woods". We saw the beautiful ice sculptures that 1st class made and the half-moon in the sky and even a frozen mushroom.
Fluency Café
1st classes have been enjoying Fluency Café on Fridays where each child performs a piece of text that they have prepared over the course of the week.  I'd like to acknowledge and thank Aisling, last year's 1st class teacher, who has inspired this practice and to also Caroline, Dee and Grace who have embraced it whole heartedly.   1st class parents are invited in tomorrow morning to see it in action, you're in for a treat!
Senior Infants are having a little performance for parents next Monday in the hall at 1:00pm. They're all very excited about it!
Thanks to Catherine our chairperson and the Board of Management who take on significant responsibility in their oversight role, the silent but hugely supportive team who are instrumental in the running and the success of the school.
Reminder:
The buzzer on the pedestrian gate is not working. Until it is repaired, for access during school hours please call 0861381823.
School closes on Wednesday 21st December at 12pm.
For Primary Language Curriculum Training school closes at

12pm on Friday 3rd February 2023
12pm on Thursday 16th March 2023
12pm on Friday 12th May 2023
12pm on Friday 16th June 2023
Happy Christmas all!!!  Nollaig Shona dibh go léir!!!
Frása na Seachtaine:   "Tá sé an-fhuar" – "It is very cold"
Le meas
Róisín Conlon
Príomhoide
Team Jerseys Modelled by 6th Class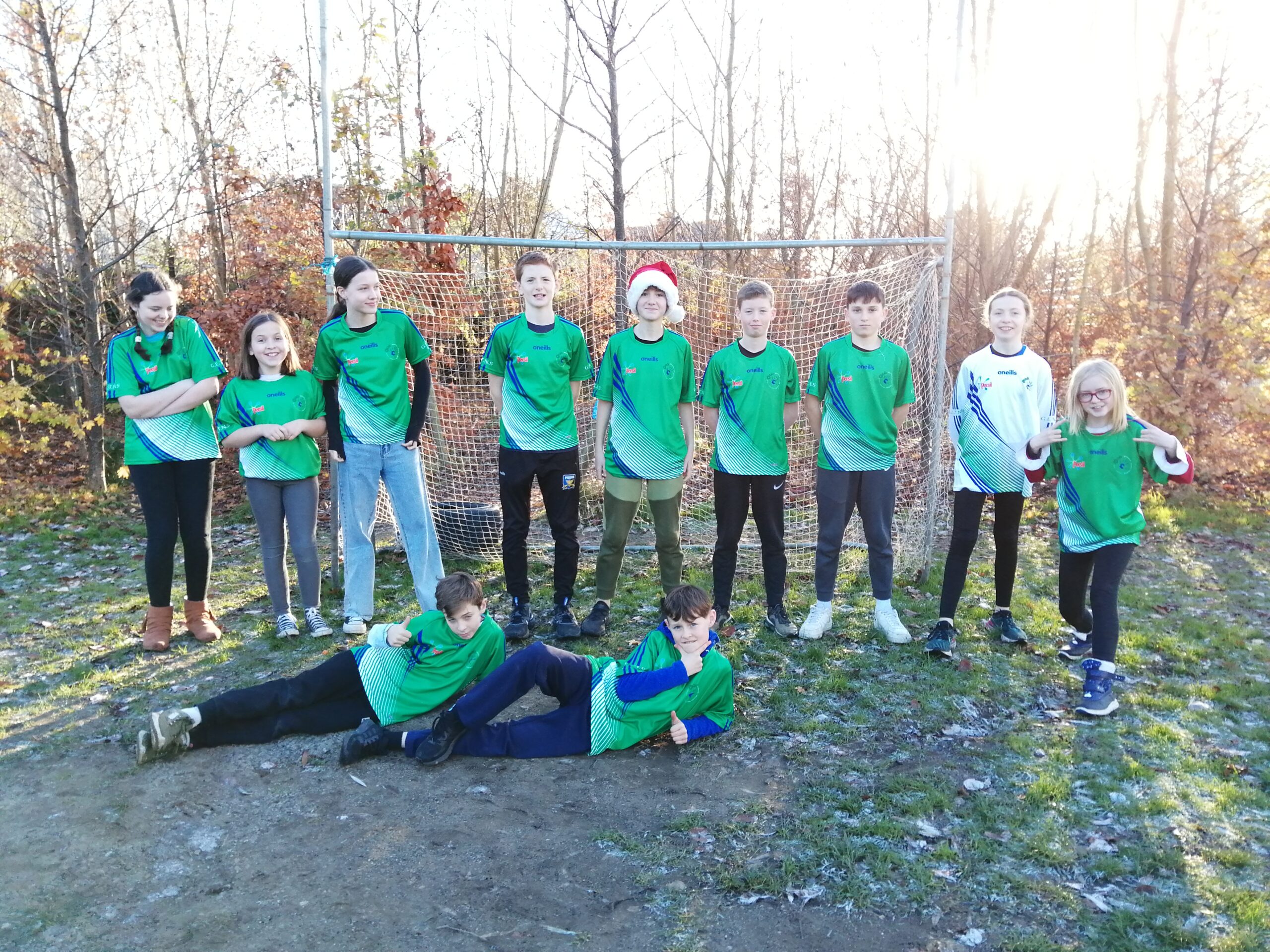 6th Class Visit to The National Gallery last week
Dees 1st class embracing the freezing temperatures
Children's Pictures of the Walk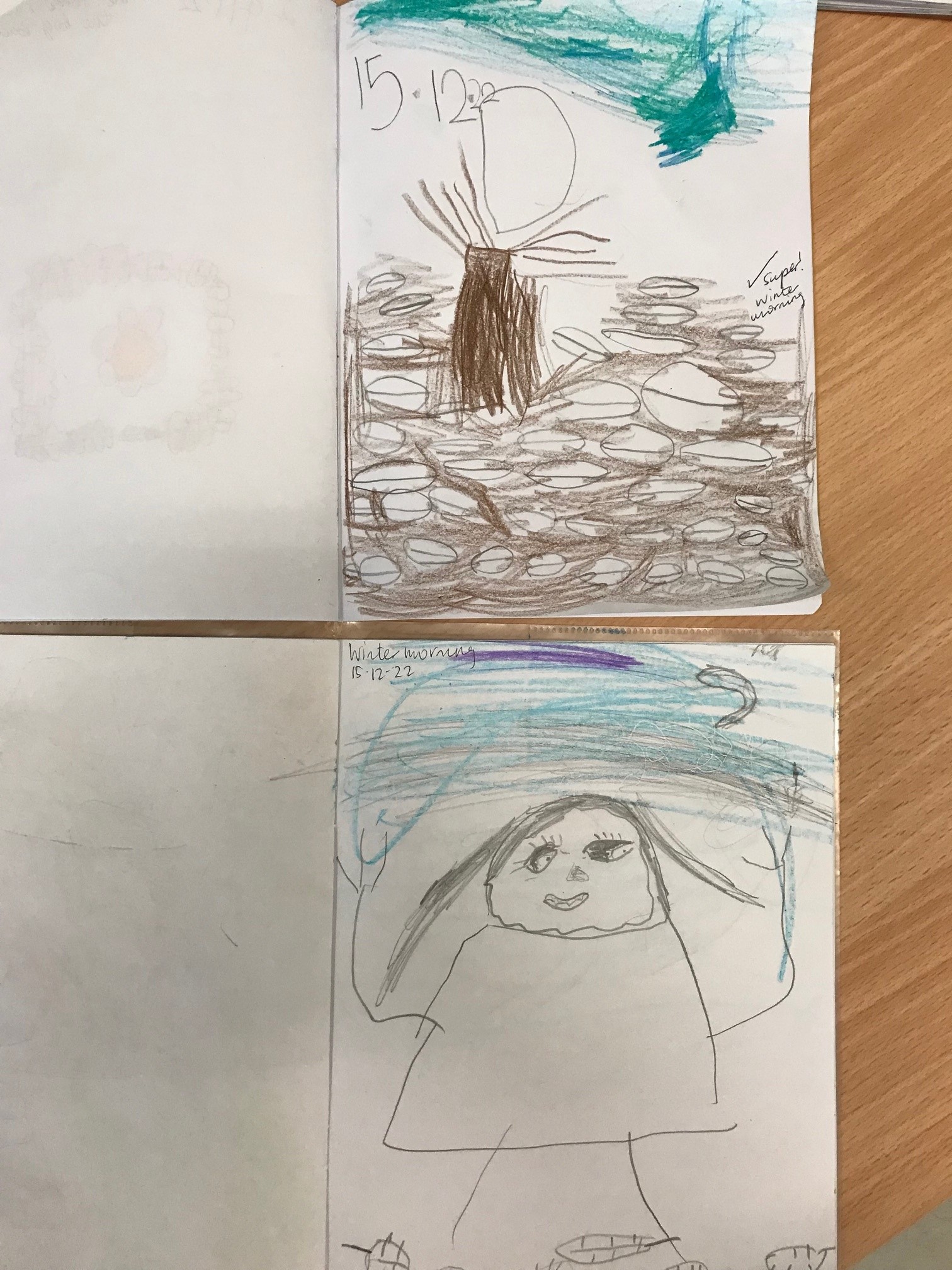 Senior Infants Practice Performance