Dear Parents and Guardians/A Thuismitheoirí agus a Chaomhnóirí,
Homework Review
Please find the results of our Homework Review here.  A huge thanks to Lisa for the comprehensive and democratic process involved.
UCD Athletics Competition
Our 4th-6th class pupils had a wonderful time at the UCD Cumann na mBunscol Athletics event! Please find lots of photos here
Assembly on Happiness
Facts about Happiness from Niamh's 5th class
Fact: Cows have best friends and they tend to experience lower levels of stress when they are hanging around with them. Sound familiar?
Fact: Norway knighted a penguin. His name is Sir Nils Olav III, and he lives in Edinburgh Zoo. Three other members of his family were also made honorary members of the elite guard.
Fact: The voices of Minnie Mouse and Mickey Mouse got married in real life. Their names were Wayne and Russi. They tied the knot in 1991 and remained together until Wayne passed away in 2009.
Fact: Goats have accents. What a goat sounds like heavily depends on the region they grow up in, just like humans.
Fact: In Switzerland, it is illegal to own just one guinea pig. Guinea pigs are social animals, so if you want to own one in Switzerland you would also need to get a mate for it.
How to request a meeting with your Teacher
If you would like to discuss something with your child's teacher please reply to any Noticeboard message they have sent to you on the school app and only your teacher will see the reply and will respond directly.    Even if its an important urgent transfer of information in the morning please pop to the office where an arrangement will be made as much as is possible.
It is not effective in resolving any issues to call into a teacher in the classroom, unarranged.
School Traffic
Please take the time to look at our updated traffic management plan and follow the guidance.  There is no parking for parents in the school grounds unless there are additional needs involved and the school has an agreement with you.
There are coaches coming in regularly at the morning time and it is challenging and potentially dangerous turning at the roundabout without additional planned parking, we appreciate you following this guidance.  Please use Park 'n Stride on Griffith Avenue passed Ballygall Road junction.
Chicks in the ALC
All the classes were so excited to visit our new arrivals in the ALC this week.
JEP – 6th Class
This year as part of JEP, the children in 6th class created their own business called Coco-Mugs!
The children developed reusable cups with a spoon, featuring the school logo and are including hot chocolate and marshmallows with each cup. They cost €5 and will be on sale on Thursday the 8th of June. Pádraig
New Junior Infant Parents
We were delighted to meet the parents of the Junior Infants last night and look forward to meeting the children on the 13th June 2023 between 1:30pm and 2:20pm.
And More!
Visit from Richie
We were delighted to welcome Richie, a resident in St. Michael's House back to GETNS last week.  Richie paid a return visit to Colm's 5th class to update them on how he is achieving his goals.  He also paid a visit to Emma's 3rd class.  He showed us all how he communicates through his iPad and how he sets goals and works towards them.  We found that we have many things in common with Richie like our love of animals and music.  We even had a dance off!   Emma
4th classes enjoying a trip to Griffith Park in the sunshine.
School Tours
3rd class had a very enjoyable time in Squirrel Scramble, Kilruddery last week.  We soaked up the sun, conquered our fears and had lots of fun swinging in the trees. Emma
Senior Infants loved their school tour to Newgrange Farm on Tuesday! Lots of photos of the fun-filled day are on our website:
4th class had a whale of a time at Navan Adventure Centre. The weather was beautiful and we loved the bubble football and laser tag!  Maeve
6th Class on school tour in Flynn Park
Upcoming:
Sports Day
Senior – Thursday 1st June
Junior – Friday 2nd June
School Tours
Junior Infants – 13th June to Newbridge Farm
2nd Class – 8th June to Squirrel Scramble
5th Class – 7th June to Flynn Park Adventure Park
School Calendar for Academic Year 2023/2024
Reminder:
Please arrive to school on time as many classes are doing circle time and other learning activities at 8:40am, coming in later than this disrupts the whole class learning and means your child is missing out.
Please use Park 'n Stride on Griffith Avenue passed Ballygall Road junction.
Seo é Frása na Seachtaine:
Le meas
Róisín Conlon
Príomhoide
ART DAY – FOOD ROOM
If you can't make Art Day this year (Friday 9TH June– yup, that's next week!!) don't worry you can still play a big part! We need LOTS OF DONATIONS FOR THE FOOD ROOM to help us feed all the great volunteers that make Art Day such a success.
SO WHAT ARE WE LOOKING FOR?
SOME SWEET STUFF FOR COFFEE BREAK: Cakes, biscuits and all baked goods always go down well, and don't worry if you are not a baker or don't have the time – shop bought is just as appreciated! No nuts please due to allergies.
We also need LOTS OF SAVOURY FOOD for the main lunch break on the day – so please send in salads (all types – mixed lettuce, coleslaw, pasta salad grain salads etc), quiches, savory tarts, meats, cheeses etc   Again, don't feel you have to get making – all the main shops have great salads, quiches and tarts these days!   As we have lots of vegetarians, vegans and coeliac volunteers please label any food that is veggie or gluten free.
Any items that don't need refrigeration can be dropped at school drop off on the 8th June (outside reception) but all other items – i.e. anything perishable – must be dropped off on the morning of the 9th June – our Food Room volunteers will be there from 8.40am.
AND DON'T FORGET, IF YOU WANT THE CONTAINERS BACK AFTERWARDS, PLEASE LABEL THEM CLEARLY WITH YOUR NAME (OR YOUR CHILDS NAME AND CLASS).
All containers will be available for collection in the food room at the end of the day. Any not collected on the day will be left in the kitchen area.
***Volunteers and past pupils needed for Art Day****
Thank you again to everyone who has volunteered so far but we need a few more of you to let out your inner artist on the 9th of June for the best day of the school year. For newer parents in the school this is a great opportunity to come to school and join in the fun! We want to make this a fantastic day for the kids but we still need *lots* of help.. No artistic talent needed but you might just find your inner Picasso or Banksy on the day!
Contact to volunteer [email protected]  Or contact Claire on 0851288474
Frása na Seachtaine
UCD Athletics Competition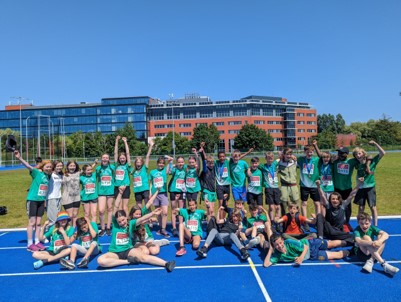 3rd class school tour in Squirrel Scramble
Senior Infants School Tour to Newgrange Farm
4th Class in Griffith Park
4th Class School Tour in Navan Adventure Centre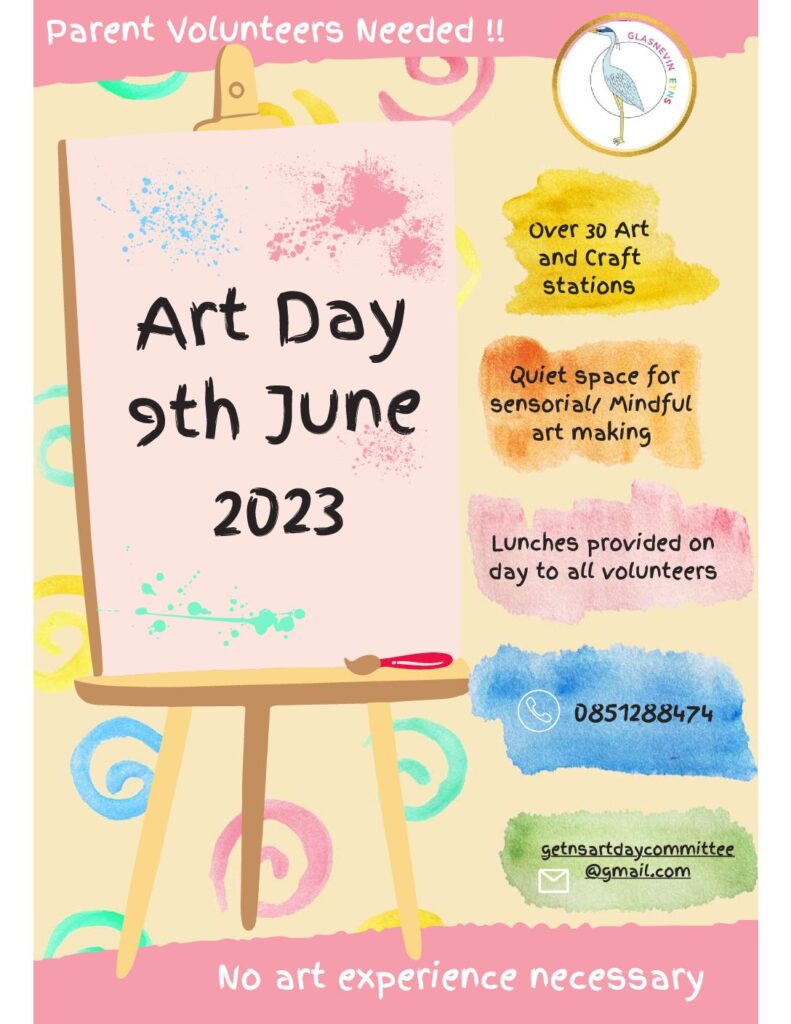 At KL Football, this year we are launching a summer soccer feast for your children.
Through July & August we will host 7 (seven) weeks of football & other football related activities.
You can secure a place today by just signing up through our registration link.
Contact Keith on WhatsApp 0851796567.
Dates and other information can be found on  camp poster (see below)