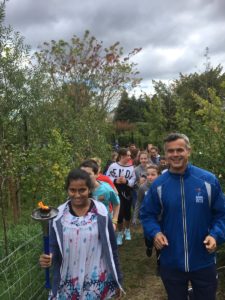 We were delighted to welcome the international team of peace runners to our school today.  They are carrying a flaming torch as a symbol of Peace – passing it from hand to hand and heart to heart through all of Europe. The runners are visiting school children, community groups, organisations from all walks of life, country leaders, dignitaries and athletes, sharing with them the ideals of encouragement and support for others and fostering teamwork and peace in our day-to-day lives.
The Runners are travelling on a 20,000 km journey through 47 European countries to finish in Lisbon, Portugal on 7 October.
The Irish leg of 2018 run began in Derry on the 4th of September. The runner have passed through Derry, Donegal, Enniskillen, Cavan, Kells , and now to us in Glasnevin!
The torch has been held by many prominent people such as Pope Francis, Pope John Paul II, Mother Teresa, Nelson Mandela, Archbishop Desmond Tutu, Bill Clinton, Mikhail Gorbachev and sports personalities such as Muhammad Ali and Carl Lewis.
In Ireland, Sonia O'Sullivan, Catriona McKiernan and Bernard Dunne have held the Peace Torch. Presidents Mary McAleese and Mary Robinson have also welcomed previous Peace Run teams.
We are delighted to have got the opportunity to meet the Peace Runners and hold the special Peace Torch.