Dear Parents and Guardians/A Thuismitheoirí agus a Chaomhnóirí,
Please click here to read Anti-Bullying policy.
BoM Annual Meeting with Parents and PTA AGM
The Board gave its annual presentation to the parent body last night, onsite for the first time in a couple of years.  This included clarification on the role of the Board; thank you to PTA and individuals for a high level of engagement in a voluntary capacity; a snapshot of school life, including an update on our development as a Restorative Practice school. Please read this link and thanks to Lisa for putting it together.
Click here to read the school's approach to Restorative Practice
We enjoyed a very inspiring talk by Colman Noctor last night and I'll share a few of they key takeaways for me:
He spoke of the importance of the need to take stock of the collective trauma shared over the last few years and the impact on children of contradictory messages e.g. stay inside, get on your screen.
Enough is good enough – falling in to the 4 to 7 category i.e. average. Not overachieving, under achieving is a good place to be.
Moderation in all things, balance in expectation and in response.
Behaviours (undesirable) can be because of an absence of communication.
In relation to developing social consciousness (conflict, climate) giving enough information relative to social/emotional development avoids overwhelm.
He used a great analogy of a glass jar filled with stones, pebbles and sand, with the stones representing core values and substance. He emphasised the importance of encouragement and providing opportunities to develop core values.  Where there's an absence of stones the jar can be filled with sand first and therefore unstable, the sand represents the superficial and the less helpful influences.
ALC Blue trip to Dublinia
ALC Blue are learning all about the Vikings in Dublin this month, so we went on a trip to Dublinia on Wednesday.
Evangeline said "We tried on some Viking clothes and armour. The clothes were made from Linen and wool."
Aaron said "I saw a long ship!"
Ethan said "I saw a wolf skull."
Ethan said "My favourite bit was seeing the sword."
Davin said "My favourite bit was the Viking house. I liked the comfortable bed with animal skins."
Ksawery said "I liked the Viking long ship."
4th class have been having lots of fun learning about the Romans, including their clever military strategies and some very wacky food…roast parrot and peacocks brains anyone?!
A little Active School Flag and PE update: click here to read 
Over the weekend, Sally and Marcus went to Spain for a taekwondo competition with their club, Whitehall Martial Arts. They got there on the Friday for a 7am start the next day. Marcus was knocked out of the patterns in his quarter final but got a bronze medal in the sparring. The next day was an early start as well. Sally was unlucky in her patterns final and lost 2-1 securing a silver medal and took the gold medal in her sparring. All and all we were happy to come back to a very congratulating class. Harry from 5th class was also in attendance, he says he really enjoyed the experience and can't wait for next year.
By Marcus and Sally Rose in 6th Class.
Lily's grand aunt knitted beautiful Christmas decorations to raise money for Waterford Hospice.
 Frása na Seachtaine:  
An raibh sé ag cur báistí ar maidin? – Was it raining this morning?
Bhí sé ag cur báistí ar maidin – It was raining this morning.
Le meas
Róisín Conlon
Príomhoide
ALC Blue Trip to Dublinia
Maeve's 4th Class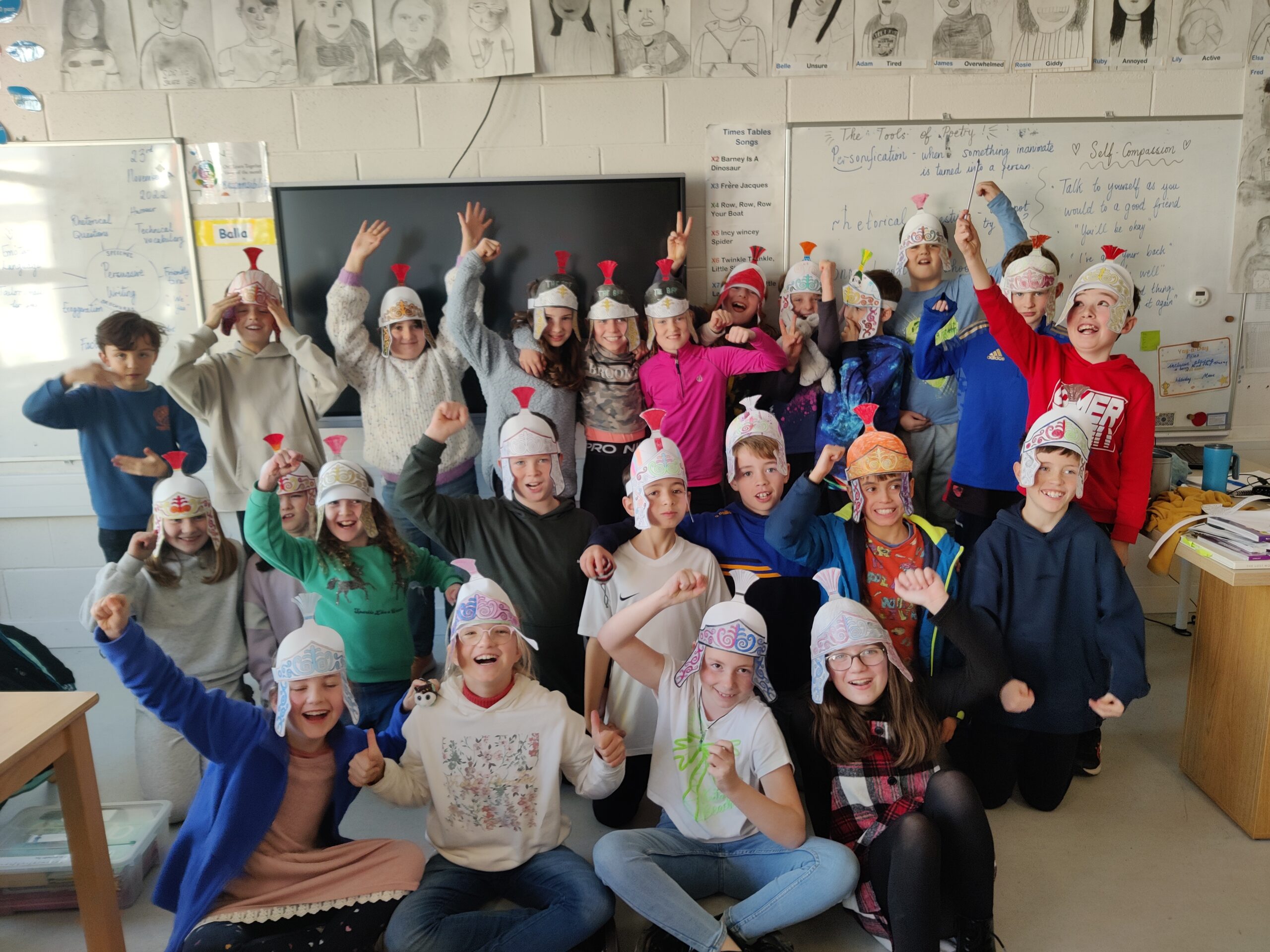 6th Class children in Taekwondo Competition in Spain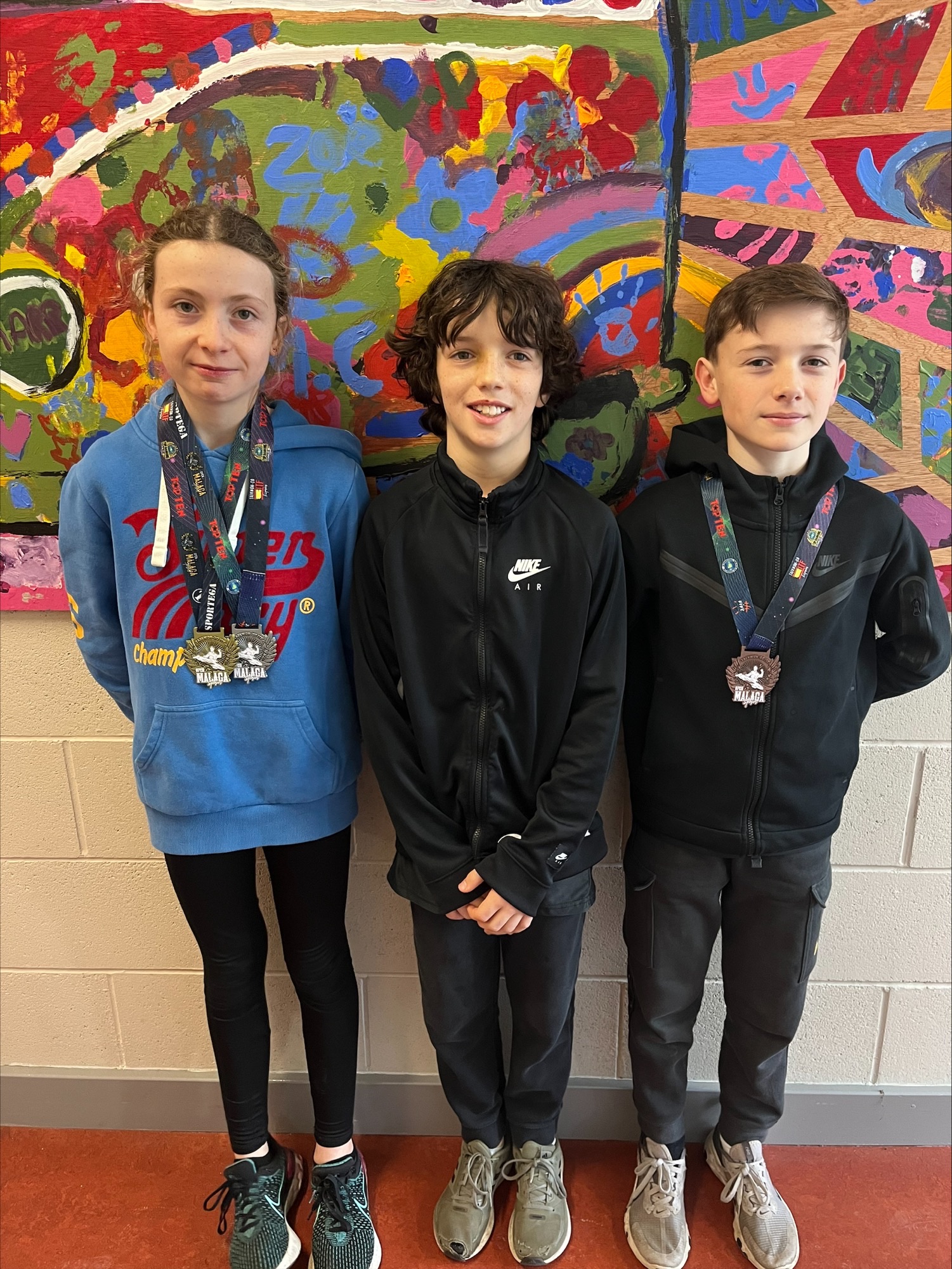 Christmas Decorations