Dear Parents and Guardians/A Thuismitheoirí agus a Chaomhnóirí,
Safety and Courtesy
Please be aware of other pedestrians/cyclists using the path and keep the path/cycle path clear while waiting to drop or collect your child(ren).  Please stand on the grassy areas (while distancing).  We have received a couple of complaints about this and wish to be neighbourly.
COVID Update
Just to keep you posted we have had confirmed cases in 1st, 2nd, 4th, 5th and 6th over the last couple of weeks.  While there has been some spread, we are relieved it hasn't been greater and appreciate your continued vigilance with keeping children out when symptomatic.
We sincerely hope that after a safe and peaceful Christmas break, we will all be back in school on Thursday 6th January.  Just in case we will send a few books home with the children.  Don't panic, we don't know anything more than you, this is precautionary only.
Christmas Panto
All classes will be enjoying a panto with some taking full opportunity to get into the festive spirit sporting colourful jumpers, socks and pyjamas.   There are lots of lovely art and fun winter/Christmas activities going on throughout the school, see a snippet of a few across.
Art Workshop in ALC Blue & Green
The ALC classes got very crafty and creative making stunning robin pictures led by Violet, the artist.
2nd Class Christmas Cards for residents of a local Nursing Home & Songs
Jill's class have made beautiful cards and written detailed messages for the residents of Beneavin Nursing Home.  They also learned and performed What a Wonderful World by Louis Armstrong, accompanied by Marla on the piano. Maith sibh go léir!
Lisa's class performed five fabulous songs with movement today for their parents.
Glasnevin GET Together School Newspaper
Newsflash …….watch your inbox, the Winter Edition Of  Glasnevin GET Together School Newspaper is on it's way. Stay Tuned!
Reminder
Rainbows
We are starting our first 10-week Rainbows programme for children in GETNS after Christmas (COVID protocols all strictly followed). See the poster below for more information and to register your interest.
What is Rainbows?
Rainbows is a free, voluntary service for children and young people experiencing loss following bereavement and parental separation.
What does it look like?
Attending the programme provides children with an opportunity to meet with other children of a similar age and loss experience.
Is there more information for parents? https://www.rainbowsireland.ie/parent-faqs/
Entering and exiting school premises
Thank you for a great improvement on coming in the gate slowly allowing everyone some space.  It feels much safer and we appreciate everyone's efforts.
Frása na Seachtaine: "Nollaig Shona daoibh go léir" – "Happy Christmas to you all"
Le meas
Róisín Conlon
Príomhoide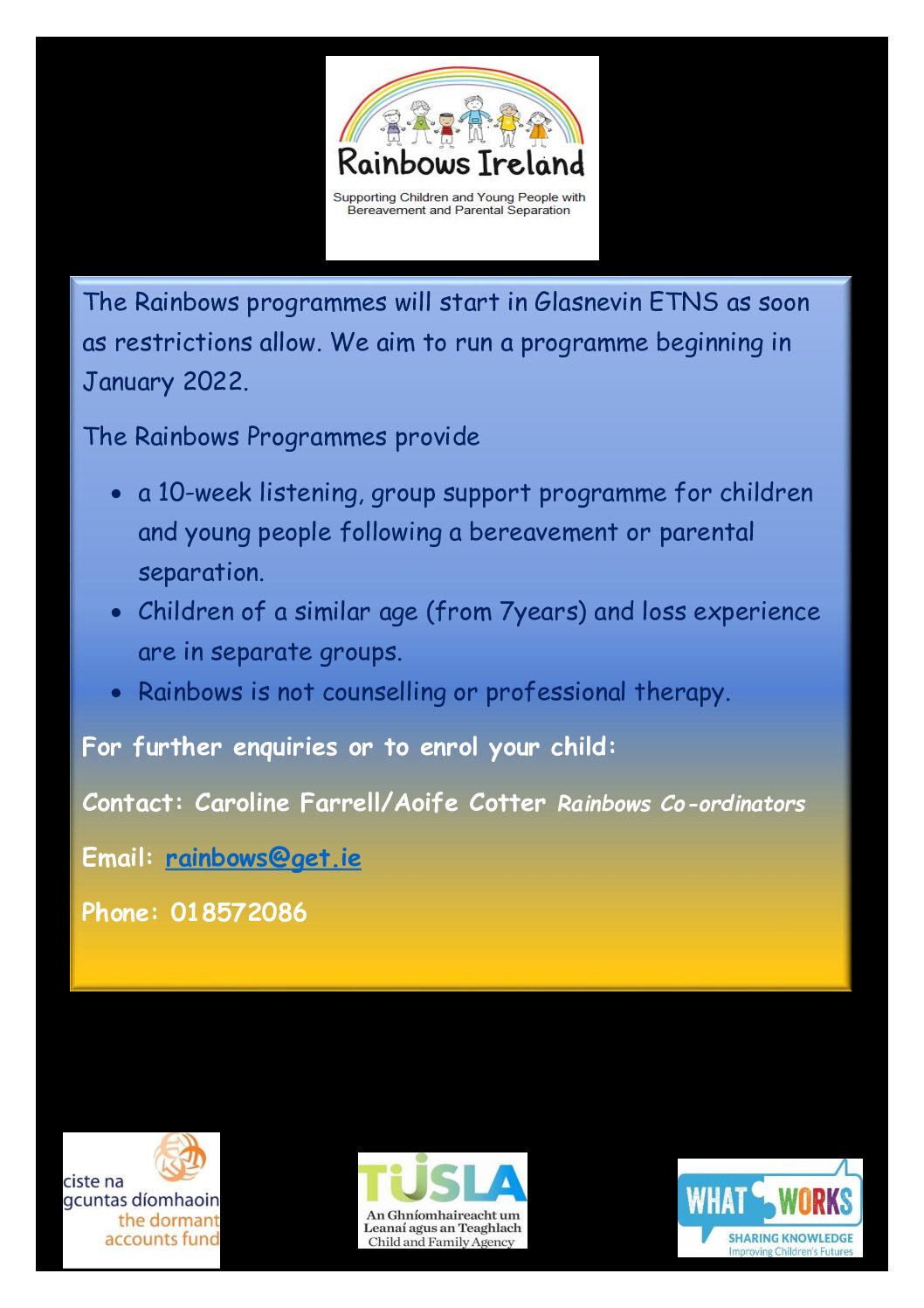 ALC Workshop Art – Rory's Picture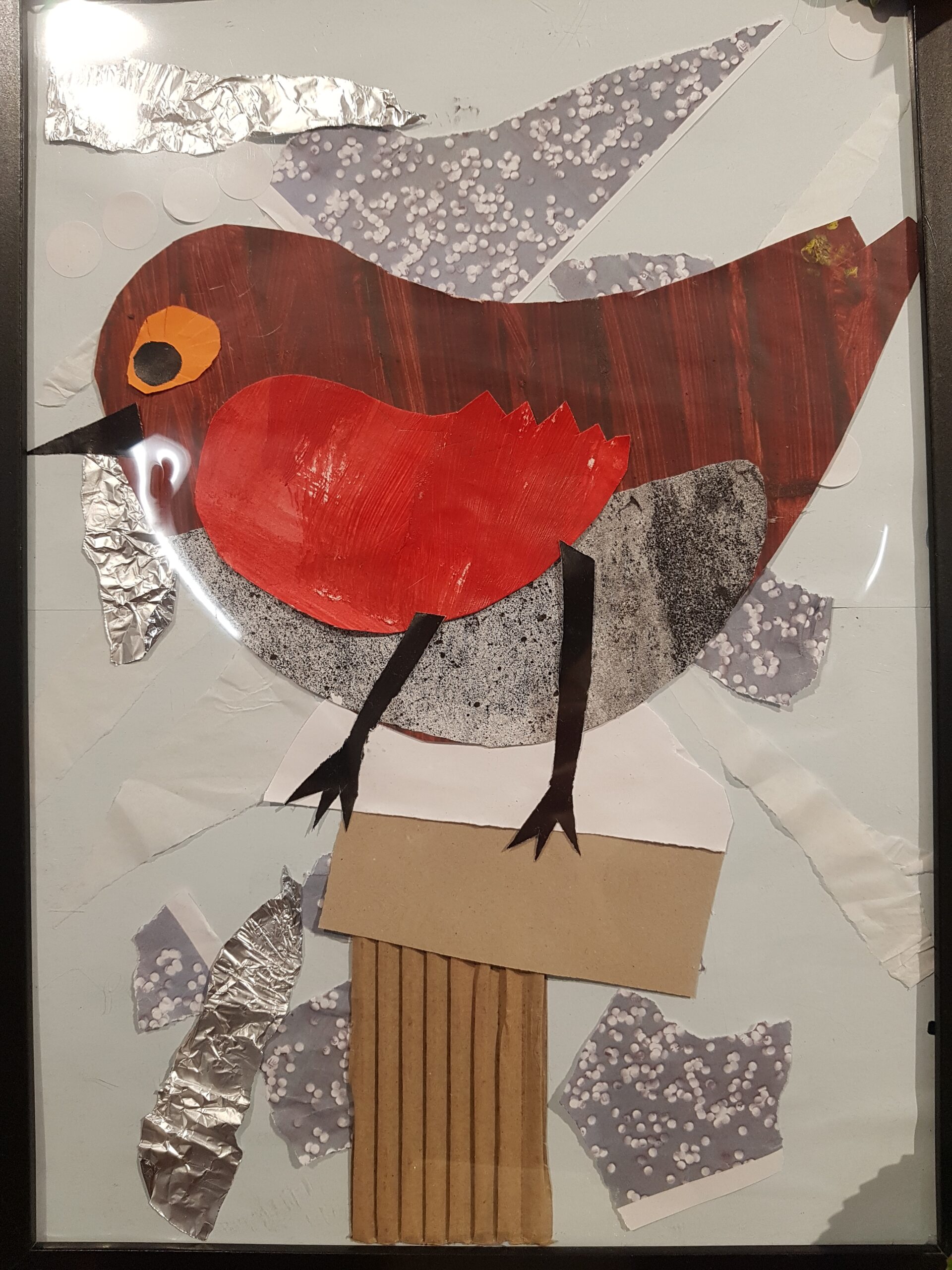 Jill's 2nd Class Christmas Cards for Local Nursing Home