Dear Parents and Guardians/A Thuismitheoirí agus a Chaomhnóirí,
We have come to the end of a fun filled, interesting term and are enjoying the resumption of many extra activities.  I feel very grateful to the staff for their ongoing efforts to make school life fun and stimulating and feel very proud of all the children who continue to amaze me with their resilience, kindness and creativity.  Thanks, to you the parents for your support and participation, it is lovely to have some parents in as mystery readers.
Policies
Sorcha our Deputy Principal and the Board of Management have been busy reviewing Health & Safety.  Please see attached important Policies now ratified by the Board
Building Remediation Works
Following Department of Education Inspection of our building some work will be carried out during the summer months, fortunately they are relatively minor works.  The school will be considered a building site and access will only be possible through one of the engineers.
PTA organised School Walk by Colin PTA Chair
During the week of 28th March- 3rd April the ever-amazing families of GETNS got on their walking shoes and stomped the streets of Glasnevin and we are absolutely delighted to say we have raised a total of €2395 for new readers and jerseys in the school.
We had amazing sunny weather for our final walk on Sunday 3rd April in Albert College Park with a great turnout! Thanks to everyone who came.
Huge congratulations to Colm's 6th Class who were the winners of the GET walking challenge! As a school, you all travelled a total of 4686 km, which means we walked just a little further than Boston, MA in the USA! Well done everyone, and special thanks to Steve who got us all organised. Colin PTA Chair
The winning class (6th) will organise an egg hunt for Aisling's class, 2nd place, tomorrow.
Cross Country Races in Albert College Park
Well done to all our wonderful athletes who competed in the Dublin Primary School's Cross-Country event with yesterday in Albert College Park. If you would like to find out more about yesterday's event and how we got on, please click on the link here
Judo Competition
Patrick 3rd class, James Senior infants won bronze in the national judo club championships in the national Indoor arena on Saturday
Cathal also of 3rd class didn't win a medal but did very well in a tough group winning one of his fights in his first competition after only 9 months doing judo
They are all looking forward to the Leinster judo mini Mon competition on 21 May
Looking for Volunteers with Planting
The Green Schools committee are looking for parents to volunteer to help out with our outdoor green areas. The volunteers would help classes to plant seeds in their raised beds after Easter and help the committee to maintain the upkeep of the school garden. If you would like to volunteer or would like more information you can email Pádraig at [email protected]
Run around Ireland Challenge
After the Easter break, we'll kick off the Run Around Ireland Challenge. The challenge is a great way of bringing learning outdoors and gives students the opportunity to further develop good running technique.
We've worked out the distances from our school to famous landmarks around the country and every week for four weeks, students in each class will add up their combined distance ran to see which landmarks they've made it to.
Sibling Hour
Please see attached re sibling hour.  For all queries use number included
Reminder:
School Closed tomorrow Friday 8th April at 12pm and re-opens on Monday 25th April 2022
Frása na Seachtaine:
"Beannachtaí na Cásca oraibh" – " Happy Easter"
Le meas
Róisín Conlon
Príomhoide
Primary Cross Country Event 2022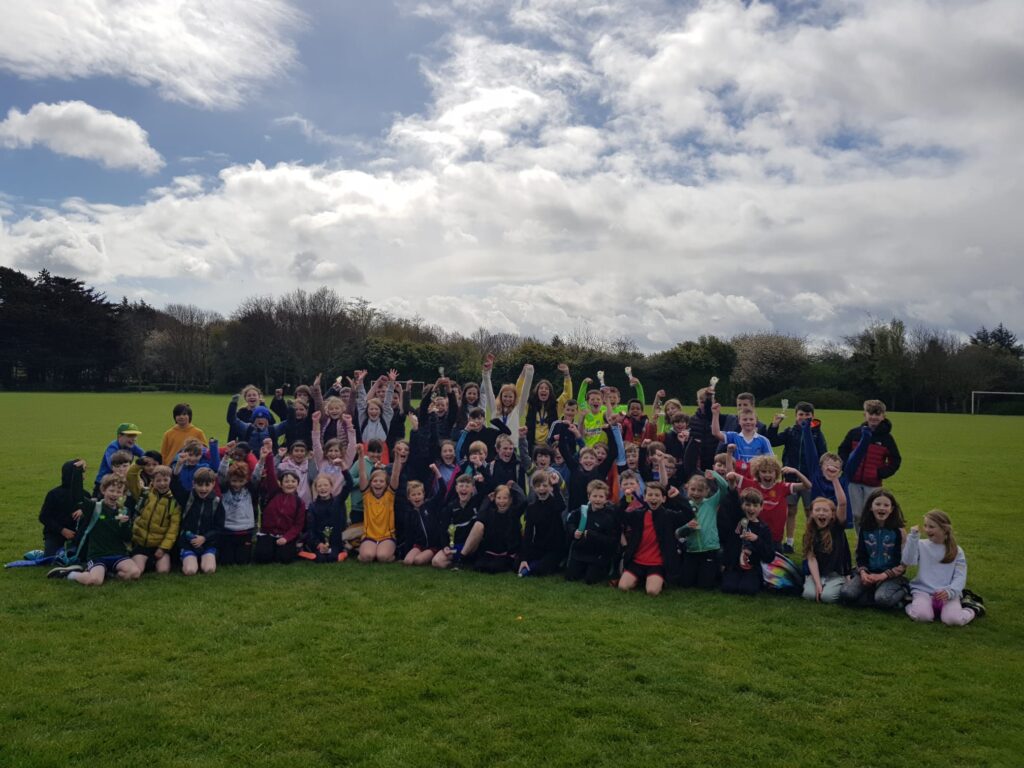 Run Around Ireland Challenge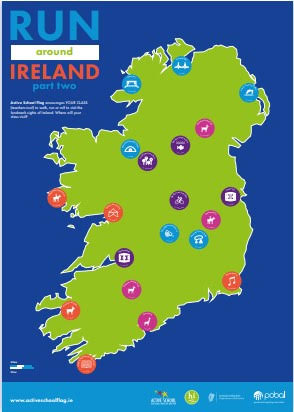 ECA
The ECAs will start after the break and below are the locations of each ECA so your child will know where to go
Monday
Soccer with Keith 1stand 2nd – GP Hall
Science SI to 1st – Room 2
Science 2ndto 4th – Room 3
Tuesday
Athletics and Games 3 rd to 6th Teacher Lisa – GP Hall
Drama Teacher Padraig 1stto 3rd – Room 12
Drama Teacher Rebecca 4th to 6th – Room 9
Wednesday 
Wellbeing Warriors Teacher Daniel 4th to 6th – Room 11
Soccer with Keith 3rd class – GP Hall
Thursday
Arts and Crafts Teachers Maeve and Colm 1stto 6th – Rooms 7 and Room 13
Athletics and Games Teacher Lisa Junior Infant to 2nd – GP hall
Friday
Dance with Donna Senior Infants to 6th– GP Hall
Chess Teacher David – Room 8
Music Ukulele Junior infants to 2nd – Room 6
Music Guitar 2nd to 6th – Room 6
All children must have their own instrument. However, a basic instrument is only necessary.
If anyone has any guitars or ukuleles at home that they are not using and could donate to the music classes, it would be much appreciated.
Today is also the last day to fill in acceptance forms. The link will deactivate at 5pm today!!!!
SIBLING HOUR WITH LITTLE LEARNERS
From Little Learners re Sibling Hour
We are delighted to let you know that our early morning drop off and sibling hour is back from Monday 25th April. It is called the sibling hour but is open to anyone who needs it.
We will be onsite in the log cabin from 8am to school start and again from 1.20pm to 2.20pm
Places are limited and will need to be booked weekly at a cost €7 per session.
We hope you find this useful and thank the school for facilitating the clubs.
Contact number for the club is 0832087030
Best wishes
Nessa and all in Little Learners