Dear Parents and Guardians/A Thuismitheoirí agus a Chaomhnóirí,
Welcome to our final Thursday Letter of the year. It has been another hugely successful year. Thank you for all your significant contributions throughout the year. Your children would not have such a rich educational experience without this. I would also like to thank all of our wonderful teachers, SNAs and Nicky for all of the hard work throughout the year. We appreciate your positivity and ongoing support of the professional role of the staff and this is the best thanks you can give us a homemade card is more than enough in addition.
As mentioned previously with the roll out of the new Primary Language Curriculum, there will be further staff training. Our school have been allocated 30/09/2019 for our whole day of training. The school will be closed on 30/09/2019.
Art Day
Thank you so much to all involved in another super Art Day including our budding artists for the additional, beautiful river-life on display in the foyer.
Sports Day
Well done to all for a great Sports Day, especially Orlaith and Aoife.
Chess Tournament
David will be running a Chess Tournament for the Chess club tomorrow, Friday, starting at 10am and finishing at 3:20pm. Thank you David for your ongoing kindness with sharing your passion and real expertise.
Graduation
We're looking forward to giving our wonderful 6th Class pupils a send off next Tuesday. We are very proud of them all and believe they have a bright future ahead of them.
Na Fianna Football Blitz
Thanks to Mark and all at Na Fianna 3rd and 4th class are invited to a schools' blitz on Tuesday 25th June, more fun and games.
GETNS Table Quiz
When: Saturday 22nd June 2019, doors open at 7.30pm
Where: Upstairs in Na Fianna Clubhouse on Mobhi Road
Aim: A great night out at the end of the term, the trophy lift, but also funds raised will be used for additional science and maths resources for all classes.
How do I Book: Email Lisa Anderson [email protected] to book a table of 4 or as individually and we can reserve you a space at the winning table!
Aladdin Connect – New App for Parents
In September we will be introducing a new App for Parents, Aladdin Connect, that will enable you update your child's contact details, receive instant messages from school/teachers, submit absence notes, make payment online and lots more features that will be rolled out over the coming school year. More information about this will follow in September.
We will close at 12pm on Friday 28th June. Have a fabulous summer!
Frása na Seachtaine: "Tá súil againn go mbeidh saoire samhraidh iontach ag gach duine!" – "We hope it will be a great summer holiday for everyone!"
Le meas,
_____________________________
Róisín Conlon,
Príomh Oide
ART DAY
Art Day was a HUGE success!! The Art Day committee would like to thank all the people who made this all possible: staff, students, and all the parents who helped in some way or other on the day and in the preparations leading up to it! Great things happen when people come together!!
You can see a small selection of what was done on the day downstairs in the corridor in front of the principal's office. There's a Lego city constructed by a large number of students, as well as some fish that were painted with inspiration from artist John Nolan.
Just a reminder that there is still some art that has not been collected, please make sure to collect this before the end of the scholastic year. Most items are downstairs, near the lift, but please also ask the children to check in their classrooms.
Once again thanks to everyone who participated in one way or another to make Art Day happen!! If you have any feedback you would like to share please do so at [email protected]
The Art Day Committee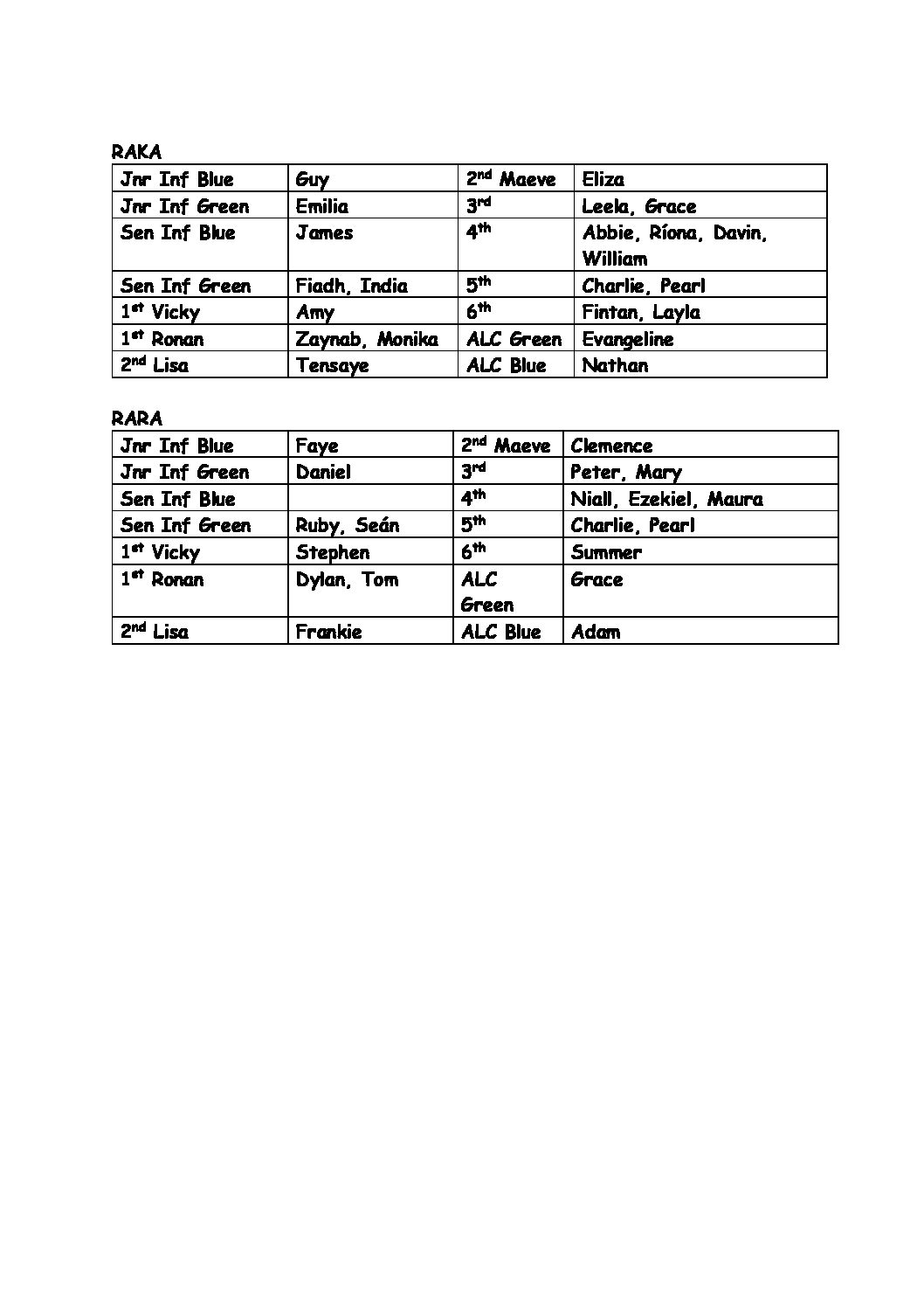 AUTUMN FAIR
While not wanting to wish our glorious summer (?) away we are already planning for the Autumn Fair – Sunday 20th October!
So, over the summer months can we please ask you …
1. If you are cleaning out your wardrobes/cupboards then please bag and keep any:
• toys
• books
• bric a brac
• nice women's clothes
**NOTE: you will have to store this at home until 2 weeks before the Autumn Fair as we have limited access to storage at the school**
2. If you are feeling creative or crafty and want to make any items that could be sold at the Autumn Fair then we'd be most grateful of anything made over the summer months.
3. If you have lots of fruit, or have made JAMS or CHUTNEYS, please squirrel them away and consider donating them to the Autumn Fair!
4. Please volunteer… we are looking for people who have particular skills or interests in the following areas:
• Photography
• Chef (ideally HACCP trained)
• Children's Entertainment
• Beautician/nails
• or any secret talent you'd like to share or you think could make a good stall
ALSO, we are still looking for people to lead, or help with the following:
• Bric a Brac
• Beauty Room & Nail Bar & Hanna tattoos
• Sweet Shop
• Kids entertainment / Cinema
• Quiet Area for kids
• Toys
• And more volunteers for lots more stalls, and smooth running throughout the day.
Please get in touch to let us know what you can do, or what you can help with, by emailing: [email protected] Any help, no matter how small you think it is, is VERY MUCH APPRECIATED!!
The Autumn Fair Committee