Dear Parents and Guardians/A Thuismitheoirí agus a Chaomhnóirí,
Congratulations to Áine and Aisling on the birth of their new baby boys.
Welcome back Trish!  We are delighted to have Trish back helping all our pupils to cross the road safely.
Value of the Month is Respect
I'm very happy to see the children showing their respect as they come into school and leave and throughout the day.  We will have an assembly to celebrate our ever-improving efforts to show respect and to mark International Day of Sign Languages on 23rd and Rosh Hashanah on 25th September.
Junior Infant Coffee Morning Tomorrow
Thanks to the PTA Junior Infant parents will have the chance to enjoy a social get together in the school hall from 11:00am to 12pm.
Outdoor Classroom Cleanup
If you have some time to spare next Thursday afternoon, we'd love your help to continue the clear out in preparation for outdoor classroom.  Contact Nicky in the office if you can volunteer.
Stay Safe
While there is plenty of adult presence, including Trish, outside the gate in the morning and afternoon, please remind the children to stay on the school side of the road when dropped off and until collected.
Once the children leave the school it is expected that they continue to behave in a respectful manner.
Frása na Seachtaine: "An bhfuil sibh réidh?" – "Are you ready?"
Le meas
Róisín Conlon
Príomhoide
Autumn Fair 2022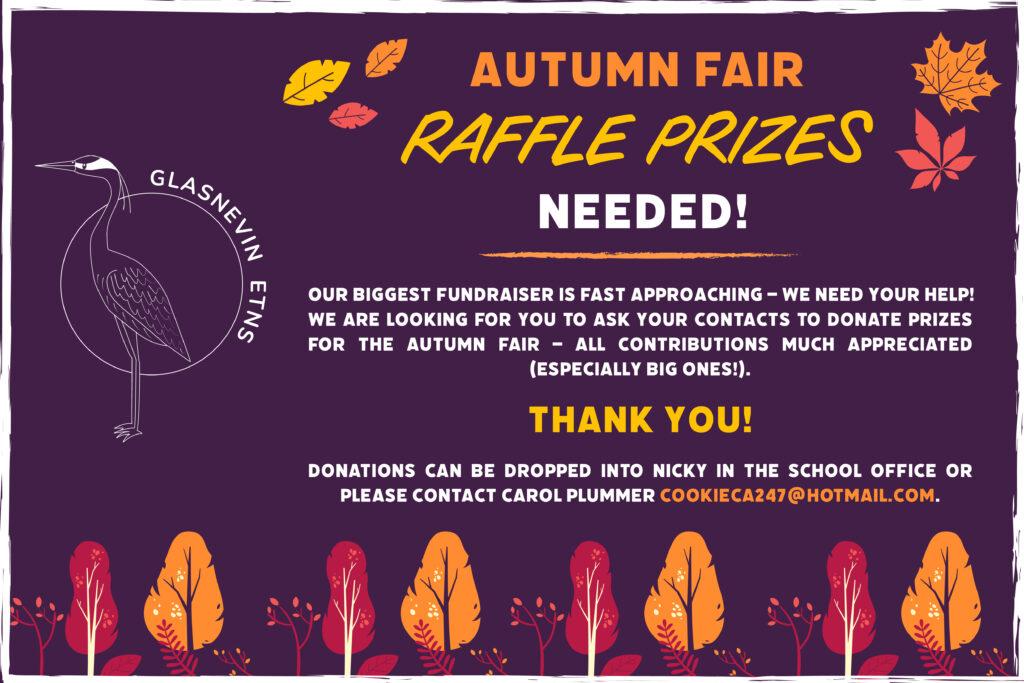 AUTUMN FAIR 23rd OCTOBER​​​
Dear Parent / Guardian,
The Autumn Fair Committee are delighted to announce the return of the GETNS Autumn Fair after an absence of 2 years. The Autumn Fair for the school will take place on Sunday 23rdOctober this year. As most people know it is the biggest fundraiser in the school. These funds go to things like Art Day, the school garden, new books, IT equipment, 6th class graduation and much more. We will have a few new items and a couple of surprises on the day so please save the date.
If you own, run or help out in a business that could provide a prize for our raffle please email Carol Plummer ([email protected]). Our raffle team are asking you to explore all options. No item is too big or too small.
The raffle team go door to door to local businesses (i.e. from Drumcondra and Phibsborough up to Glasnevin Ave and Finglas), so please don't do this, as it can lead to us hitting the same places twice (and thereby annoying those on whose generosity we rely.)
We are asking for volunteers to contact us who might be able to help with the task of organising the day. There are plenty of jobs both before and after and on the day itself. Please contact Valerie Tavares ([email protected]) if you would like to volunteer. The Autumn Fair would not be as successful or as fun without all the volunteers. We need approximately 120 volunteers to make the day possible.
Our ever popular Holistic Haven will return to the Autumn Fair this year, offering a range of different treatments including Massage, Cupping Therapy and Reiki to take you away from the hussle and bussle of the day.  Are you a therapist willing to volunteer your skills on the day? If so please contact Karen Grimes on 0879558997 or Paula Keating on 0868457217
We are looking for anyone who is making jam, knitting, crocheting or doing any arts and crafts items who would like to donate them to contact us.
It is the time of year for folk to start cutting back their gardens. We would appreciate if anyone doing this could trim plants and herbs and kindly re-pot them for us.
With the change in the seasons if you are making space in your wardrobes, clearing out your cupboards and planning on donating please donate to us. We will provide details of when you can donate but we will have the usual stalls of toys, boutique, bric-a-brac, books and beauty room (if you've too many bottles of nail varnish). Anyone that has a charity match fund facility in their workplace get in touch.  We will also need lots of food items donated on the day. Lastly, our DJ from previous years has moved on so if anyone is or knows a DJ that would donate their time, please contact us.
Thanks a million.
Marena ([email protected])
Valerie ([email protected])
Maria ([email protected])
DUBLIN CITY LIBRARIES
In April, the national My Little Library Bags initiative was launched where every child starting school in September 2022 can get a free bag of books from their local library.  It has been a big success.  Dublin City Libraries still have bags that can be collected.  Please forward this email to the parents of your junior infants so that if anyone didn't get a bag, that they know that they can still collect one from their local library… while stocks last.  Bags can only be handed out in the library on a 'one bag per parent/child' basis.
Following a request from the Department of Children, it was also agreed that My Little Library bags could also be given to older Ukrainian children (up to 7/8 years) who started school in Ireland this year.
More information can be found here;
First 5 My Little Library Initiative | Dublin City Council
The project is a collaboration between the Department of Children, Equality, Disability, Integration and Youth (DCEDIY), the Department of Rural and Community Development (DRCD), local authorities and the Local Government Management Agency (LGMA).
Yours sincerely
Ronan Mac Neice
Librarian
Children's Services
Dublin City Libraries